From soft and warm to clean and crisp, the ageless appeal of a white kitchen is undeniable. The surprisingly versatile look works in almost any style room.
White cabinets paired with white subway tile is the perfect look for a classic traditional kitchen.
Creamy white cabinets with limestone countertops set the tone for a farmhouse kitchen.
Bright white cabinets with deep black granite counters are a timeless choice for many homeowners.
White helps create shadows and contrasts that highlight planes and surfaces in contemporary or transitional kitchens.
The wide range of white hues gives you an infinite number of design options that let your kitchen remodel avoid a cookie-cutter look.
The White Fantastic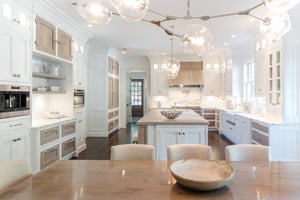 Designers everywhere understand why the appeal of a white kitchen design never dies: homeowners love a neutral backdrop they can build upon for a distinctive, personal look. They're able to keep the room's basic style minimalistic while using contrasting colors they love to add accents and focal points. White also helps make smaller spaces look larger and gives a kitchen a clean, fresh feel.
An all-white kitchen first became popular during the Victorian period when families began to spend more time in the room. It didn't hurt that most available materials then were white, such as porcelain sinks and tiles and milk-based paints.
Today there are many more color choices, but a white canvas is still held dear. It's a look that has endured for over 150 years and is a testament to many homeowners' love of all things natural.
Never Out of Style: White Kitchen Cabinets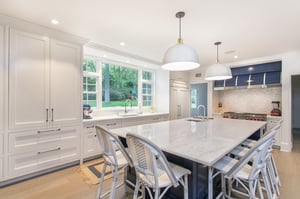 White kitchen cabinets are still the most popular cabinet choice during a remodel. What makes them so beloved is how they adapt to each individual's personal decorating style.
There are unlimited ways to make a white kitchen your own.
White cabinets, black countertops. It's a favorite combo for many homeowners. Black countertops perfectly complement white cabinets, nicely pulling the room together and giving your kitchen a refreshing, modern look. Large windows, skylights, and sliding glass doors add the necessary natural light to counter the darker materials.
Reclaimed and reworked. Found materials like wood flooring converted to a durable island countertop lend a rustic look to white solid and glass-front cabinets.
Pops of color. White definitely doesn't mean dull! From appliances to accessories and lighting, there are hundreds of ways to add color to an all-white kitchen. Kitchen stools and chairs come in a variety of shades. Bold pendants over an island can double as the visual focal point of the room. Colorful backsplashes are another great way to add color.
In the end, the real beauty of white is that whoever you are and whatever your style, there's a place for it in your life.
White is Here to Stay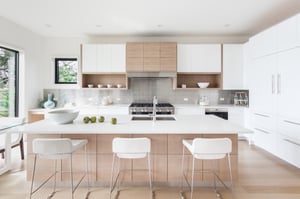 At Bakes & Kropp, we believe a white kitchen always makes a beautiful architectural statement. Need some inspiration? Take a look at our portfolio of kitchen projects featuring white cabinets. We think you'll be amazed at how different each room looks!
If you're thinking of remodeling your kitchen and are interested in learning more about how white can be the perfect color of choice, schedule a conversation with us today. Our designers can help you create the kitchen you've always dreamed of—and one your family will enjoy for years to come. See more of Bakes and Kropp beautiful kitchens designs.