Bakes & Kropp "soft modern" kitchen, in collaboration with Elsa Soyars Interiors
Bakes & Kropp has long been known for providing the highest quality of transitional luxury kitchen design, thoughtfully blending classic and contemporary elements. As the market shifts with evolving consumer interests, so too do our offerings. In recent years, we have developed an aesthetic style we call "soft modern." Soft modern is a response to a growing client desire for modern-leaning designs, balanced by more classic elements.
What is "Soft Modern"?
There is a place in the market for high-gloss, European-style minimalist cabinetry. The Bakes & Kropp soft modern aesthetic is not an attempt to replicate the identity of these European manufacturers. Instead, we have taken a modern twist to our transitional products, incorporating elements that may be found in this European style but tempering them with softer materiality and textures such as warm woods. In a soft modern space, contrast is key. We might choose to use a very high-gloss finish for the cabinetry and offset it with a matte wood finish for open shelving or accent panels.
Elements of Soft Modern: Case Studies
How do we go about crafting a soft modern space? One method is through a style of cabinetry that operates without any visible hardware. As seen in the below Cliffside Contemporary Kitchen, these doors feature a linear finish with a soft curve on the tops. The wall cabinetry utilizes push latches, making it fully functional with invisible hardware. This project encapsulates the balance of soft modern style, with stark white high-gloss Italian polyurethane finishes that contrast with hand-finished matte walnut on the island and accents. The result is a timeless design that will still be relevant twenty years down the road.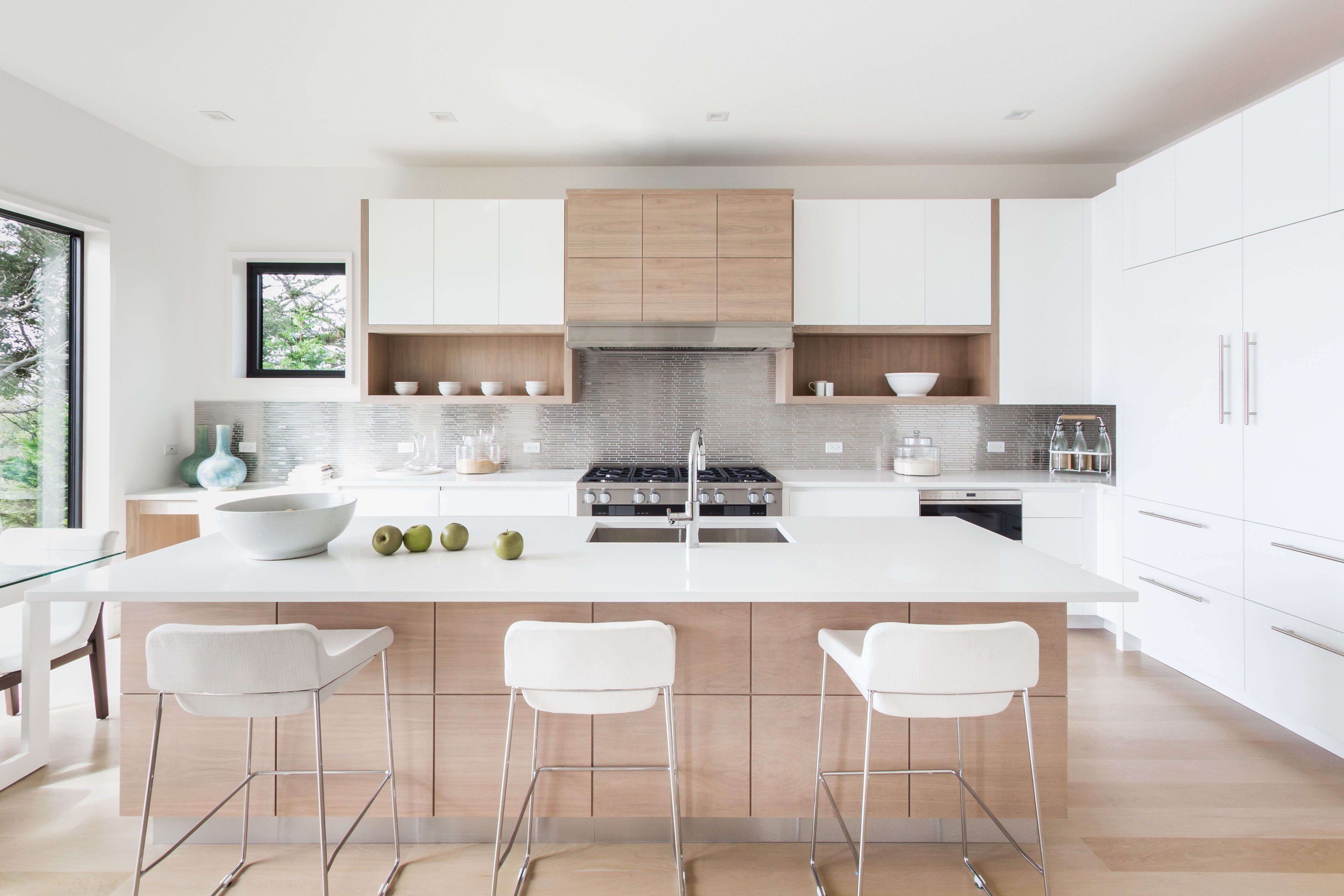 Cliffside Contemporary Kitchen
The Lincoln Luxury Kitchen, by comparison, does utilize door handles but is still a fitting representation of the soft modern look, showcasing an intelligent mixture of high gloss and matte accents. In this project, our designers took a deeper color and made it light and airy through soft wood framing and white contrasts. Both of these projects bring a modernist dialogue to our more classic Revelane collection.
Looking Ahead
Soft modern is a developing dialogue. As a design company, we recognize the importance of bringing greater diversity into our offerings. This has developed directly from client need, and is an important perspective to provide as certain homeowners look for sharper designs. The simple truth of evolving client desires cuts down to the crux of our industry. As we move forward, we will see that the styles of kitchens are as diverse in the next twenty years as they have been in the past twenty.
At Bakes & Kropp, we are committed to helping each one of our clients discover their unique style and voice. Give us a call or visit a Bakes & Kropp showroom, and we'll be happy to help you find yours.