This showstopping kitchen was reimagined to meet the needs and tastes of our clients.
At Bakes & Kropp, we always design in synergy with our clients' needs. We work in close collaboration to create a truly beautiful space that meets our clients' unique desires and exceed expectations. When the homeowners of this former Bridgehampton, NY showhouse began renovating their kitchen, they turned to Bakes & Kropp to make the home truly their own. With tailored solutions and a fully custom design, this remodeled showhouse kitchen both fulfills the functional needs of its owners and reflects their design sensibilities.
In the preliminary stages of every Bakes & Kropp design project, our team takes extra care to really listen to the client's needs and tastes. "This client came to us with a photo for design inspiration in hand," explains senior Bakes and Kropp designer Guillaume Dupré. "It is then our job to strike the right balance of materials and finishes to deliver a kitchen that transcends their visions for a unique and functional space."
The spacious footprint afforded Dupré plenty of space to deliver tasteful solutions to the family's needs. Specifically, he reveled in bringing a home chef's dream kitchen to life with a carefully considered layout that provided ample room for two sinks, two dishwashers, and two fridges. Another custom element, a Bakes & Kropp-designed range hood hangs overhead a powerful French-top stove, specially requested by the client. To cater to the French Top cooking style, observing a clean and clear workflow is especially important, further emphasizing the importance of functionality in this space.
Once the layout was specified, Dupre worked to determine the right aesthetic match. Always mindful of the client's vision, the team sought a luxurious look to compliment the kitchen's functionality, choosing a transitional aesthetic with a blend of stained walnut (from the BK signature finishes selection), painted cabinetry, stone, and metal accents. Polished nickel pendant lights lend a decorative accent, while in-cabinet lighting provides greater illumination. Around the perimeter, a thoughtful balance of white-painted and ceruse walnut cabinetry provides ample storage and pairs elegantly with marble countertops. Custom hardware designed by our co-founder and head of design Bob Bakes, creates a unifying thread throughout the space, while delicate mesh inserts add a polished sophistication.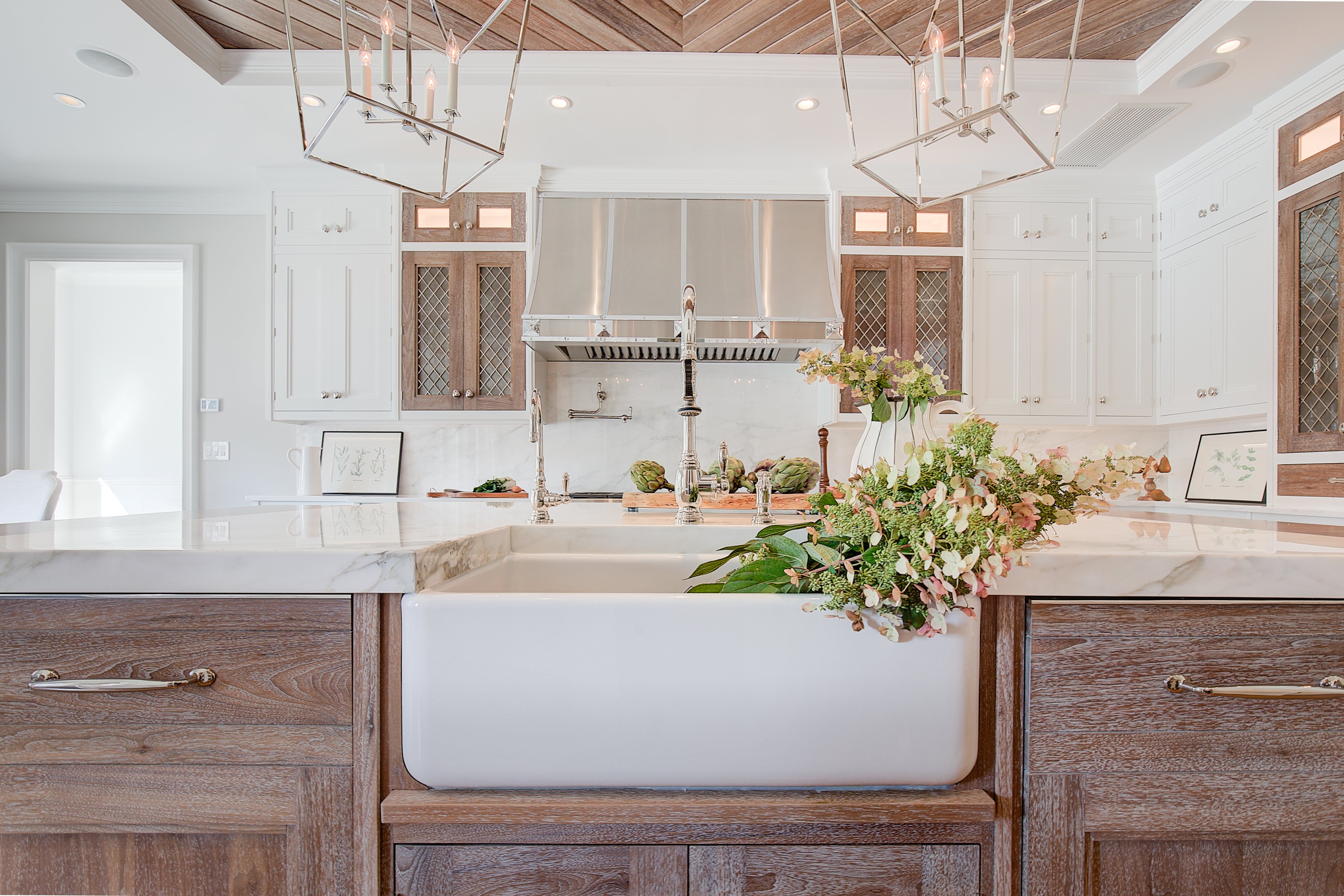 Above the island, a unique, carefully-crafted diagonal wood pattern instills movement in the ceiling, creating a perfect symmetry with the centerline of the island that shares its walnut finish. The design visually lowers the ceiling, creating a wider effect in the narrow space. "It was nice to use the same wood species and finish as the island, which created a mirror effect and framed it nicely," Dupré explains.
This inspired collaboration with our client resulted in a luxurious, stylish and functional kitchen that met their every desire and need.