The Bakes & Kropp team collaborated closely with clients to create a thoughtful and beautiful design for this large, open space.
At Bakes & Kropp, we're always looking for our next challenge and opportunity to design spaces that meet our client's needs and surpass expectations. When the homeowners decided to knock down a wall in this beautiful Leesburg, Virginia home, they were left with a wide open space. Seeking to expand the kitchen area for cooking and entertaining and to employ an open-concept design, they turned to Bakes & Kropp to execute their vision. Designing within such a large open concept presents its challenges, but, led by Senior Designer Ellen Schott, our team employed their design expertise to transform the vast area into a light, airy kitchen that beautifully blends form and function.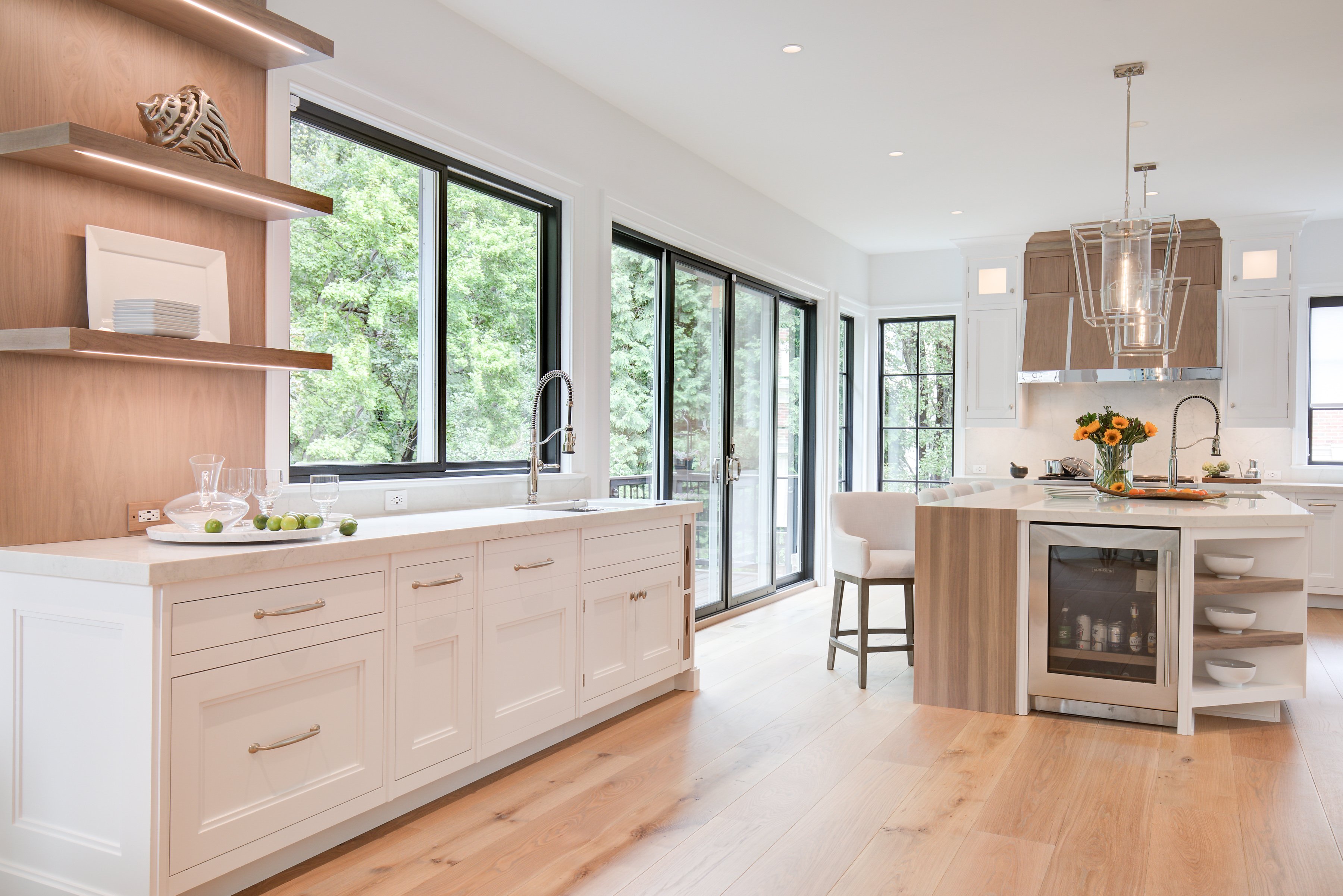 Before our team begins any design project, we meet with our clients to dive deep into their inspiration, style, and personality. This personalized approach allows us to assess our client's lifestyles and needs to understand how they envision using the space so that we can create an enjoyable transformation process and a timeless kitchen. After meeting with the homeowners of this home and understanding their wants for a spacious and bright kitchen, Ellen, along with the support of the larger design team, delivered a refined and functional space within our Bakes & Kropp's signature transitional style.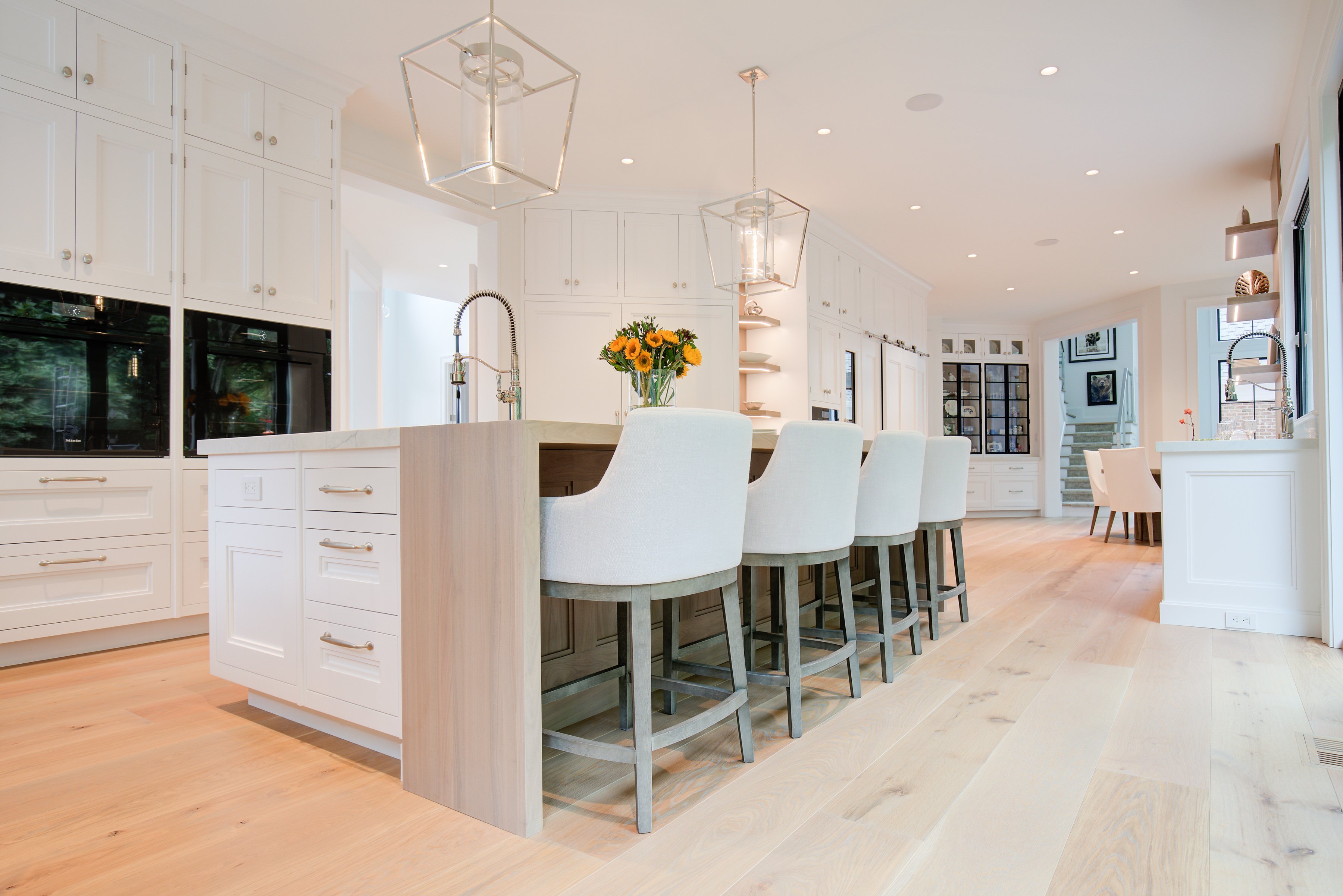 In line with the homeowner's vision, we designed and crafted Classic Meridian cabinetry in white and pearl walnut finishes. The incorporation of built-in lighting within cabinetry and accented open shelving shine on the finished wood grain and brighten respective prep spaces. The carefully considered warmth of the built-in LED lights seamlessly enhances the natural light beaming through the many sliding doors and French windows.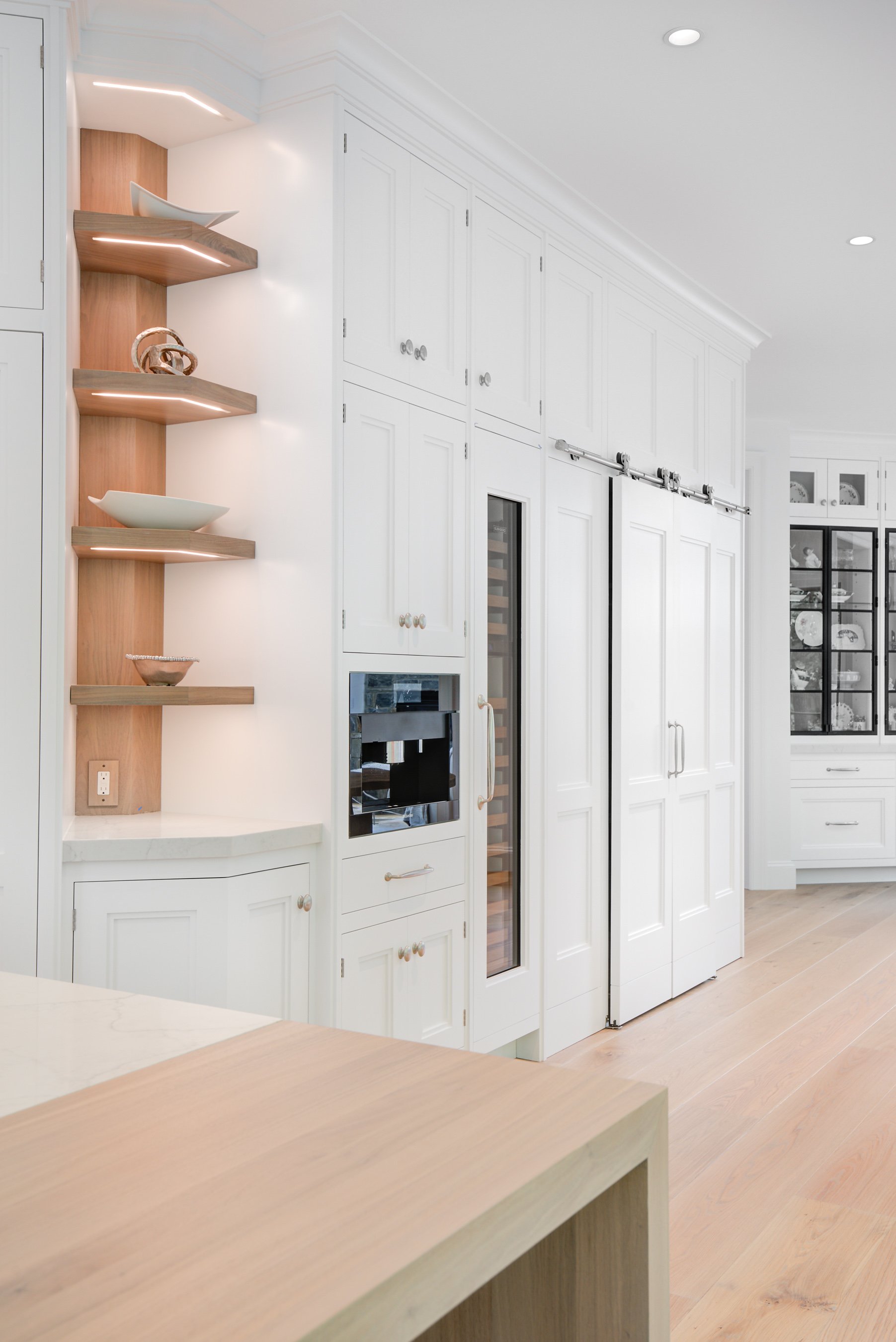 A walnut waterfall island solidifies the primary cooking and entertaining space. Satin and polished nickel accents dress the cabinetry faces and custom-sloped range hood, tying elements together within the large open space. Custom sliding barn doors seamlessly blend into the adjacent white cabinetry to conceal a pantry, with a nearby cabinet offering additional storage to display china behind black metal doors mirroring the space's windows and door frames.
Working in tandem with our clients, our design team delivered an enjoyable, collaborative renovation process and an elegant kitchen that will serve the homeowner's every need and desire for years to come.