High-end showers, gorgeous tiling, mood-setting lighting, and ample cabinetry for storage are the hallmarks of a luxury bathroom. There are limitless ways to incorporate these features into your design, making your bathroom remodel uniquely yours.
Luxury Bathrooms for a Lifetime of Pampering
A "luxury bathroom" means different things to different people but most envision spa-worthy retreats that take their current bath from so-so to sumptuous. No matter what the details, it's pretty safe to say we can all recognize a luxurious bathroom when we see one.
Here's how to create a space you'll never want to leave.
Choose Your Style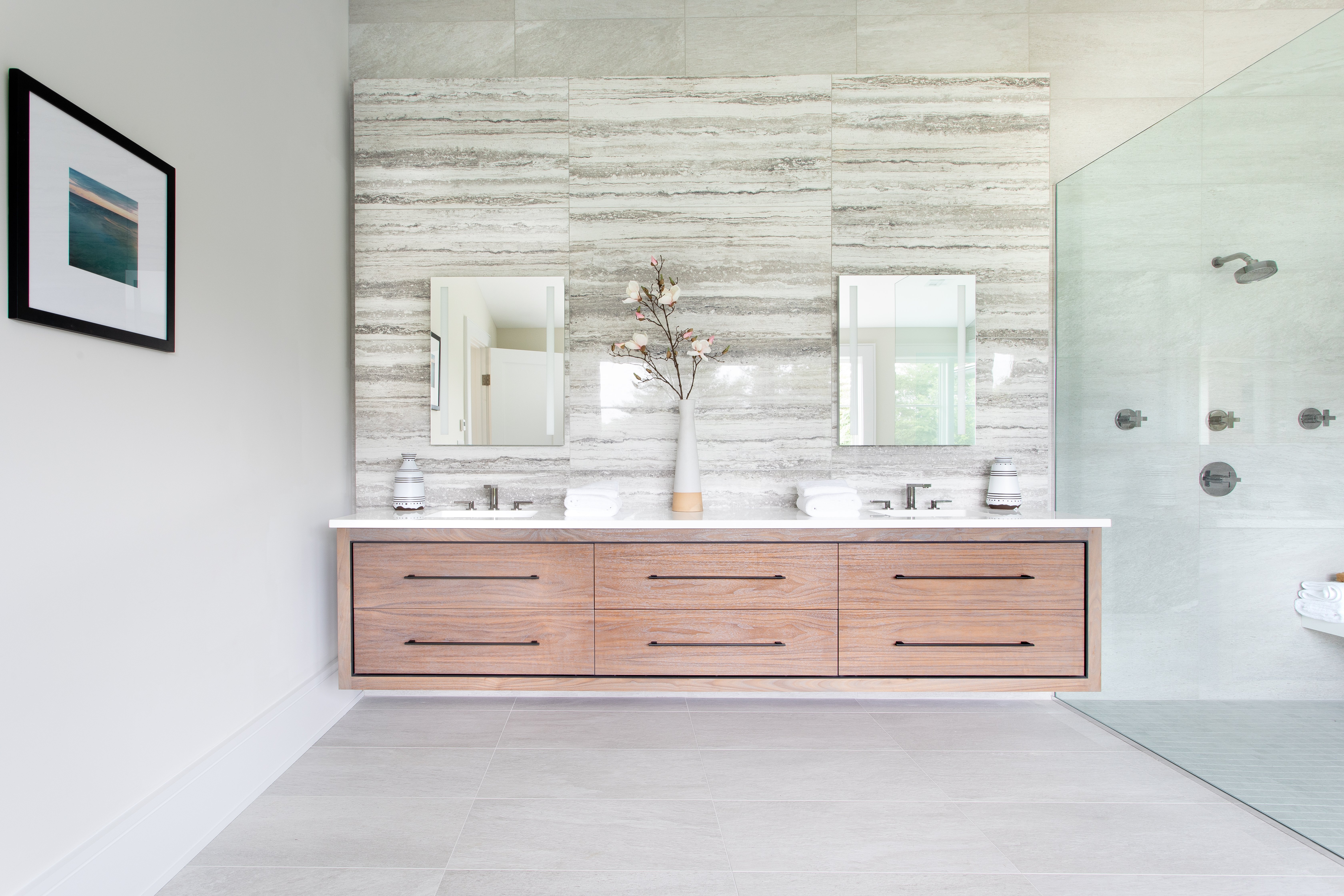 It's the single most important step to getting started on your design. Some people want a room that continues the look of the rest of the house; others see the bathroom as a chance to experiment with a non-conventional space.
Popular bathroom designs today include:
Rustic retreat. It may harken back to another time, but it never gets old. Rustic is a simple, classic design and typically includes features like barnwood reclaimed flooring (sometimes whitewashed and used on the walls), soapstone sinks, wrought iron or dark metal fixtures, and vintage lighting.
Modern stunner. A subdued color scheme like white and grey, modern lighting that often includes a contemporary chandelier, free-standing pedestal sinks, and chrome details make for a sophisticated yet still inviting haven.
Industrial chic. Doorless showers, grid-like tile work, and a generous use of mirrors, often covering a complete wall, creates a space that is understated yet striking.
Traditional luxury. Reminiscent of a luxury hotel, these rooms contain practical yet elegant design features that work for the entire family.
Other chic elements include lots of space, great views, luxurious finishes, and unique focal points like a free standing tub or Roman showers.
Luxury Bathroom Cabinetry
Along with high-end materials and finishes, exquisite custom cabinetry is a must for luxury baths. Today's bathrooms have evolved to replicate the ambiance and opulence of luxury spas and customs cabinets, particularly innovative and versatile vanities, often steal the spotlight.
Modern and industrial designs typically take a minimalistic form, farmhouse styles may feature a salvaged piece of furniture, and traditional baths tend to have a lot of cabinetry that may take up an entire wall.
Understanding your bathroom style helps you determine how advanced or basic your cabinet layout needs to be. Wall-mounted designs offer a minimal and spacious appeal. They can be symmetrical or asymmetrical shapes and use uniform or contrasting finishes. And smart modular cabinets that complement the vanity can be adjusted in number and altered to suit your changing needs and lifestyle.
For smaller details, our designers work with you to incorporate the finishes and hardware that give your custom cabinets the look and appeal of fine furniture.
Learn More
Designing a luxury bathroom requires an eye for an understanding of blending beauty, function, and efficiency. Whether you're looking to design from scratch or need guidance in bringing your vision to life, our designers know a thing or two about creating luxurious baths. We'll help you create a secluded space that's the perfect spot for some much-needed relaxation and pampering.
Whatever your dream of a luxury bath looks like, we're here to assist with the planning, designing, and material and finishes selections. Ready to get started? Get in touch with us today.