Finishes on luxury cabinetry are equivalent to icing on a cake. Not only does a finish complete a look, but it can also add another layer of personality and flair. Not sure where to start? While Bakes & Kropp can create any custom finish imaginable, our team has created a portfolio of elevated signature finishes that will meet the design needs of nearly any space. Our vast assortment of signature finishes is carefully curated to fit a wide range of aesthetics and serve as jumping-off points for your design vision.
The Process of Creating a Signature Finish
When adding to our signature finish portfolio, research is the first step. We keep a close eye on industry trends in the US and abroad – whether it be from blogs, magazines, or trade shows – and are always on the lookout for recurring themes. From there, we create a handful of finishes that go through an intensive review and selection process by our internal design team. Once narrowed down, we begin brainstorming a name for the finish. The name is arguably one of the more important aspects of the finish because it tells a story about the atmosphere a finish will create and the emotions it will evoke in a space. Finally, we officially release the finish and create samples for clients to test out.
Finish Types & Techniques
Finishes fall into two categories – hand-painted and factory. When a client opts for a hand-painted finish, their cabinets are primed four times, installed, and then professionally hand-painted in the field. This method has many advantages; it creates a sense of cohesiveness in the space and is easy for the homeowner to touch up themselves down the road. On the other hand, factory finishes are more diverse in texture and encompass wood stains, as well as cerused, high gloss polyurethane, and spray painted finishes. Though factory finishes are more durable than hand-painted finishes, they can often be more difficult to repair if damaged and require a professional. Don't let the name confuse you – even though our factory finishes are done under a very controlled environment they are still very much done by hand. From initial sanding to final coats, all of our finishes take a minimum of 10 steps to create.
Trending Finishes
Currently, we are receiving a lot of requests for muted grey and taupe-toned finishes. Because cabinetry is a design decision that will last a lifetime, many clients are drawn to neutrals to achieve a timeless, elegant look. Pearl paired with walnut has also been popular as it creates a light and airy aesthetic while still delivering beautiful contrast. Occasionally, clients ask for bold statement cabinetry finishes such as matte or satin black, which add an unexpected, stylish element to the space.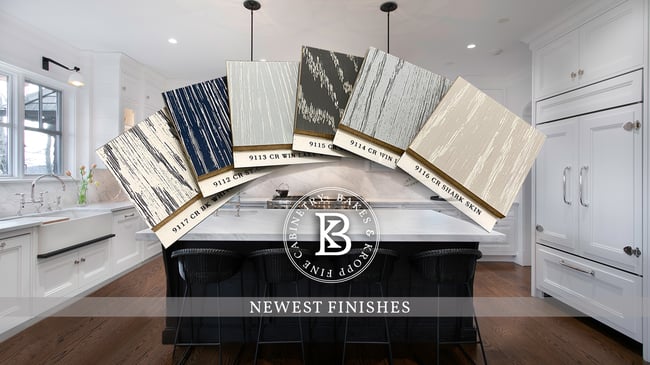 As an expert in kitchen design dedicated to helping clients discover their sense of style, I encourage you to reach out to our designers at Bakes & Kropp to learn about our curated range of signature finishes and how they can enhance your next project.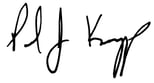 Paul J. Kropp, Co-Founder Chef Operations Officer