Ask anyone who's done one and they'll tell you a kitchen remodel can be intimidating, confusing, expensive, and lengthy. But they'll quickly follow-up with how fun, creative, and ultimately satisfying the project turned out to be.
Today's kitchens are much more than the room where meals are prepared. A successful renovation calls for mindful consideration and careful planning to ensure you get an inviting space where family and friends alike love to gather.
An upscale kitchen renovation is no small investment—the national average comes in at $125,721. While there's no one-size-fits-all kitchen remodeling calculator to give you an accurate estimate, some generalizations hold true.
Establishing the Best Kitchen Remodel Budget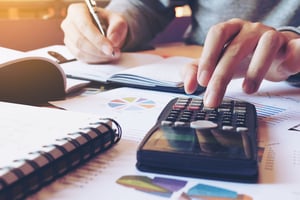 We're firm believers that knowledge is power, no more so than when budgeting for a kitchen renovation. When you're aware of the costs upfront you're far less likely to experience disappointment and stress during the construction phase.
Here's how to set priorities and establish a realistic budget that helps you reach your kitchen renovation goals.
Where the Money Goes
Let's start with the big difference makers for kitchen remodels, cabinets. From wood species selection to finishes and hardware, fine cabinetry often accounts for the highest percentage (up to 40%) of both materials and labor costs in your budget. Many details affect this figure including using drawers instead of shelves, pull-out pantries, soft-close hinges, and specialized compartments.
Custom kitchen cabinets are designed, built, and installed to fit your specific needs and space. They give you a one-of-a-kind kitchen that makes them well worth the investment. Spend the time learning about your choices and be sure to visit showrooms for some hands-on research.
Appliances and countertops come next and together they represent about 30% of the budget. A focal point that can make or break the room, countertops come in such a wide variety of materials it can be difficult landing on just one. Solid surface, slate, quartz, granite, wood, and laminate are just a few of the choices and some homeowners incorporate more than one material into their design.
Appliances may play the most functional role in the room, but they're also an important design element. Professional grade range and built-in refrigeration units together with dramatic ventilation hoods give you the tools you need to create fabulous meals while delivering the stunning new kitchen you've dreamed of.
The rest of your budget is made up of plumbing, lighting, electrical, flooring, custom backsplash, and installation costs.
Setting Budget Priorities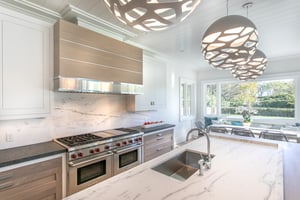 Planning a kitchen remodel scope of work helps prevent budget overruns and other unwanted surprises during construction. Are you planning an addition, or do you want to completely gut the kitchen you have? Will new electrical, plumbing, and flooring be needed?
One of the most difficult parts of creating an accurate budget is accounting for everything that affects its bottom line. For instance, there are hidden costs most homeowners aren't aware of that can easily throw your plans off-track. An experienced kitchen designer can help you learn:
The unknown costs you should account for
The features and installation costs to watch out for
How design decisions affect each other and your budget
Developing a good understanding of all the components that go into a kitchen renovation—and how they affect the final cost of your remodel—is an essential part of any home improvement project. Armed with the right knowledge, you'll minimize unexpected setbacks and maximize your chances of a successful remodel.
Ready to move forward with your own kitchen renovation? Schedule a conversation with us today to learn more about what you need to know before getting started.