Functionality, as well as aesthetics, is an essential element of designing a space for entertaining.
With the holidays near, we are all preparing to welcome friends and family into our homes, but is your kitchen equipped to host? Even in sprawling homes with dedicated living and dining areas, your guests will always find themselves drawn to the heart of the home. As such, some of Bakes & Kropp's most common requests are for bespoke entertaining kitchens. Read on to learn how we custom-design our cabinetry to host a lifetime of holiday gatherings.
DEFINED PREPARATION AND SERVING SPACES
In designing a kitchen to function successfully as an entertaining space, the layout is critical! We work with our clients to understand their hosting needs, which often require defined cooking, preparation, and serving areas. Islands are a tried and true element to differentiate these key zones, helping separate the working area while still allowing the cook or host to easily conversate and entertain. For the avid home chef needing extra cooking space, we might even opt for double islands when space allows, one designated for food and drink preparation and the other specified for serving. For some, a tucked-away butler's pantry serves the same purpose. With custom design and storage solutions, we can transform small adjacent areas into fully functional butler's pantries, keeping prep work and serving dishes cleverly concealed.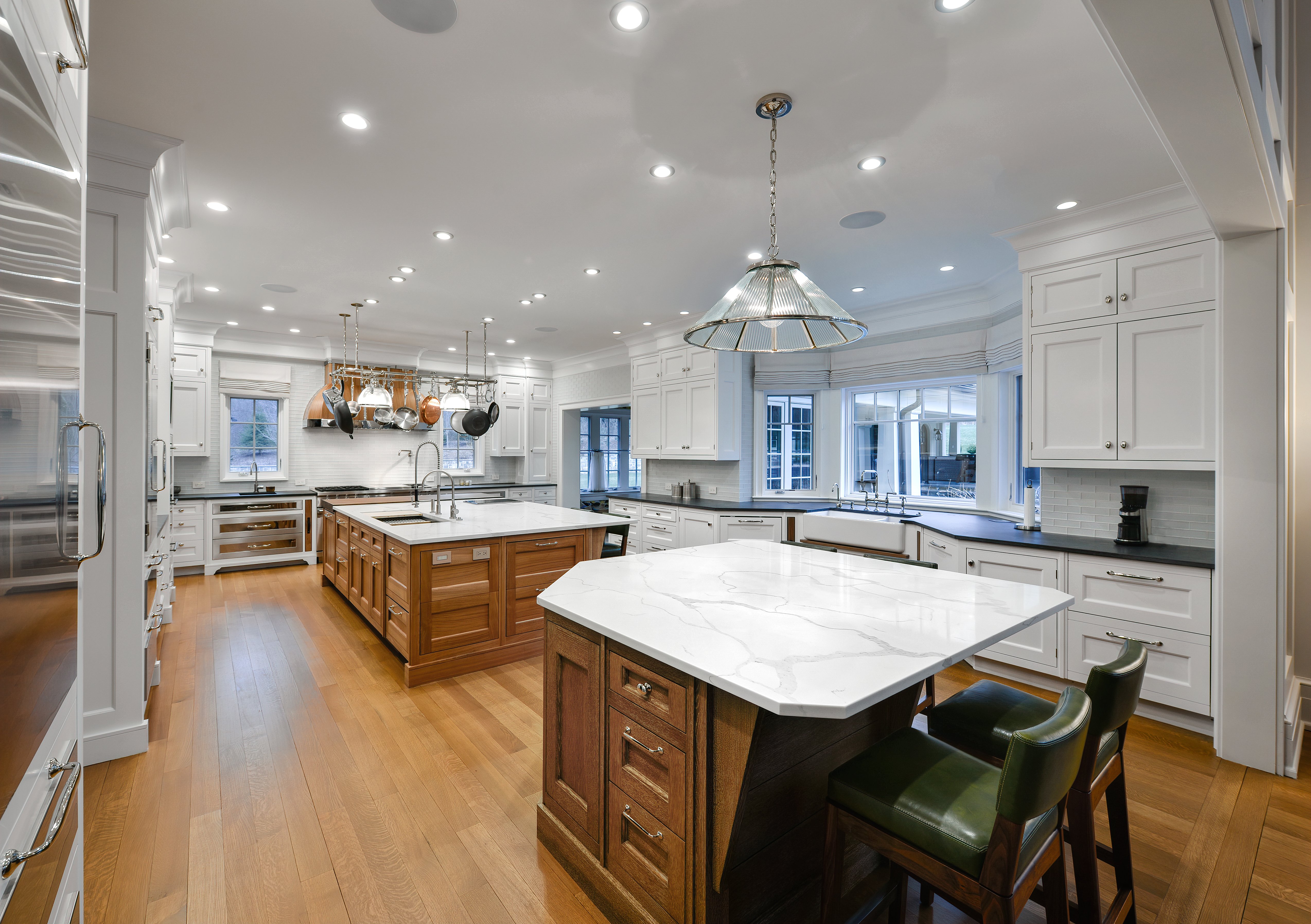 We also always design to fit the range, refrigerators, and sink within a clear path and defined working triangle, providing the cook with ample space and allowing for thoughtful movement. Accessory appliances, such as wine fridges, microwaves, and espresso machines, also find their way near this active space, concealed by our refined cabinetry or fit within the working side of the island, out of guests' view. When designing the layout, cabinetry, and storage, we work with the homeowner to determine if multiple fridges, or even dual ranges, might be needed. Because the needs of every home and family vary, Bakes & Kropp undergoes a dedicated discovery period to provide hosts with the necessities they require and the design features they desire, ensuring a purposeful and timeless kitchen.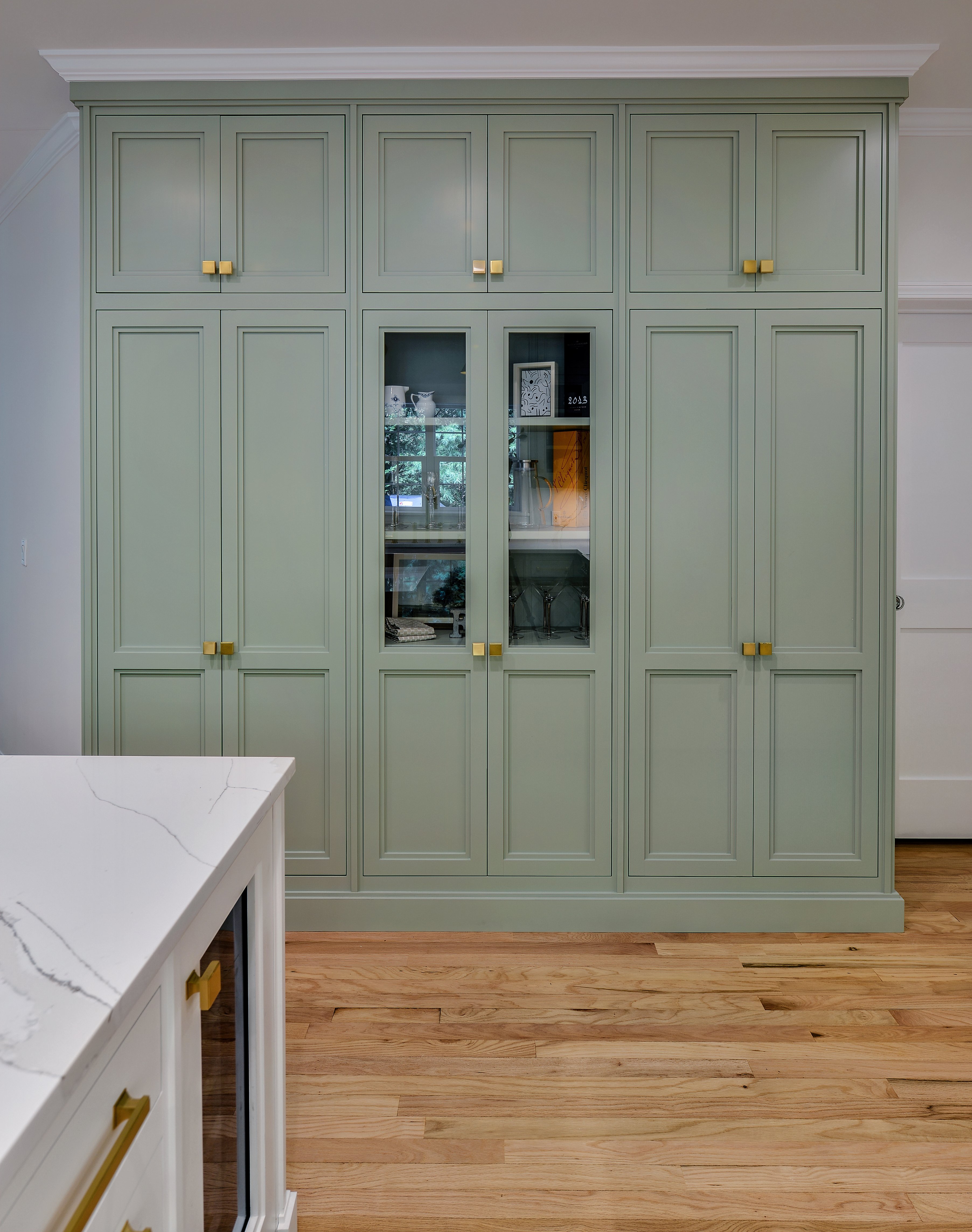 TAILORED STORAGE & DISPLAYS
In grander kitchens, we may determine a special focus that highlights our clients' design tastes or specific needs, such as creating custom display cabinets or open shelving, providing equally ornamental and practical functions. Conversely, when working to maximize the footprint of tighter floorplans, the design team employs our creative solutions for functional storage and hosting provisions within our cabinetry and island design. With decades of expertise, our custom capabilities can overcome any hindrance.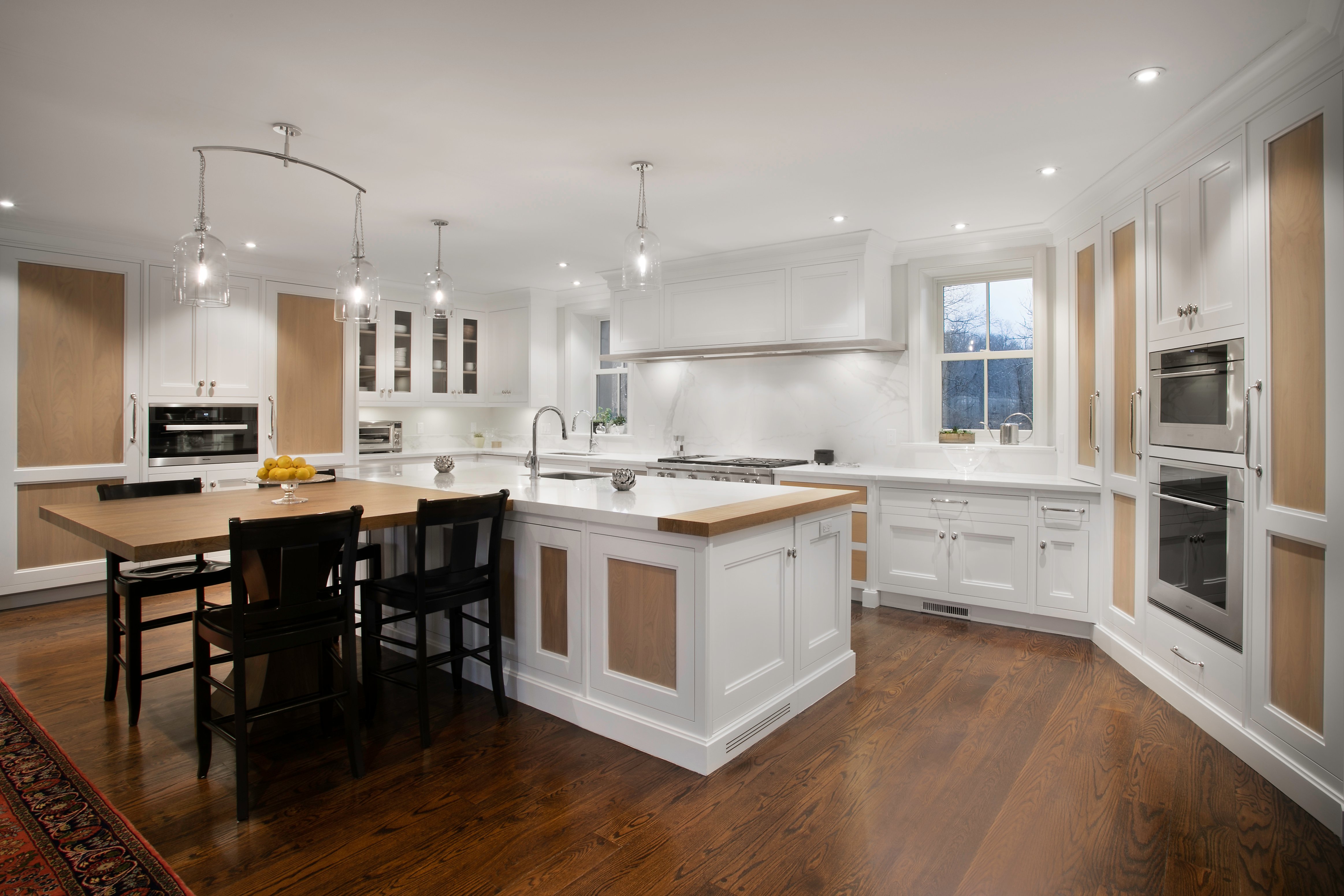 WARM LIGHT
Another key element when thinking about entertaining is lighting. While many homeowners layer fluorescent lighting above their prep space, they overlook the need for ambient mood lighting until guests arrive. Foreseeing this, Bakes & Kropp layers multiple light sources within our kitchens. Built-in cabinetry lighting may be tailored with a warm glow to showcase fine tableware, or crisp light to illuminate countertops and working surfaces. Recessed lighting is another pared-down go-to in many of our projects, which we often achieve with decorative pendants or chandeliers to compliment common gathering areas.
With these elements considered, Bakes & Kropp is proud to provide our clients with fully equipped kitchen designs to warmly host their loved ones throughout the holiday season and beyond.