1. Which sponsors did you use in your room and where specifically?
Bob Bakes: We sourced sinks and faucets from Kohler, paint from Benjamin Moore, countertops from Silestone by Cosentino, and appliances from JennAir.
2. Are there any design trends you tapped into or are forecasting that are included in your room?
Bob Bakes: People are becoming increasingly willing to experiment with kitchen design by mixing textures, materials, and styles. Our kitchen for the Show House reflects this broadened vision through a thoughtful blended balance of textured wood, glossy stone, and polished metal accents. The kitchen also ties into a larger movement towards color expression in kitchen design, as homeowners are seeking a bit of extra boldness. We've incorporated two of our latest finishes, Black Matte Paint and Cinder Walnut, which are very sleek and modern colors. It's a twist on the classic white kitchen.
Paul Kropp: Another interesting trend we are helping to set here is illuminated cabinetry. We have incorporated automatic linear cabinet lighting from Häfele, only an eighth of an inch wide, which illuminates upon opening the door. It's a given that we illuminate our cold storage areas (refrigerators) so why not do the same for our warm storage? We're also introducing a new door style, Madison, a veneer surrounded by a half-inch wide hardwood edge to give it a modern, defined look. What's innovative here is that this door is designed to go inside a framed construction, rather than an overlay.
3. What is your personal favorite design element in your room?
Bob Bakes: My favorite design element is the play on the home's varied ceiling heights, which creates a fun, almost cubist composition. Rather than trying to hide this aspect, we accentuated it, building a ceiling box ventilation unit that adds yet another layer to the ceiling. It is visually interesting but unobtrusive to the kitchen's functionality. I also love how the new grey and black finishes contrast against the white backdrop.
4. Did you have any specific inspiration in mind when designing your space?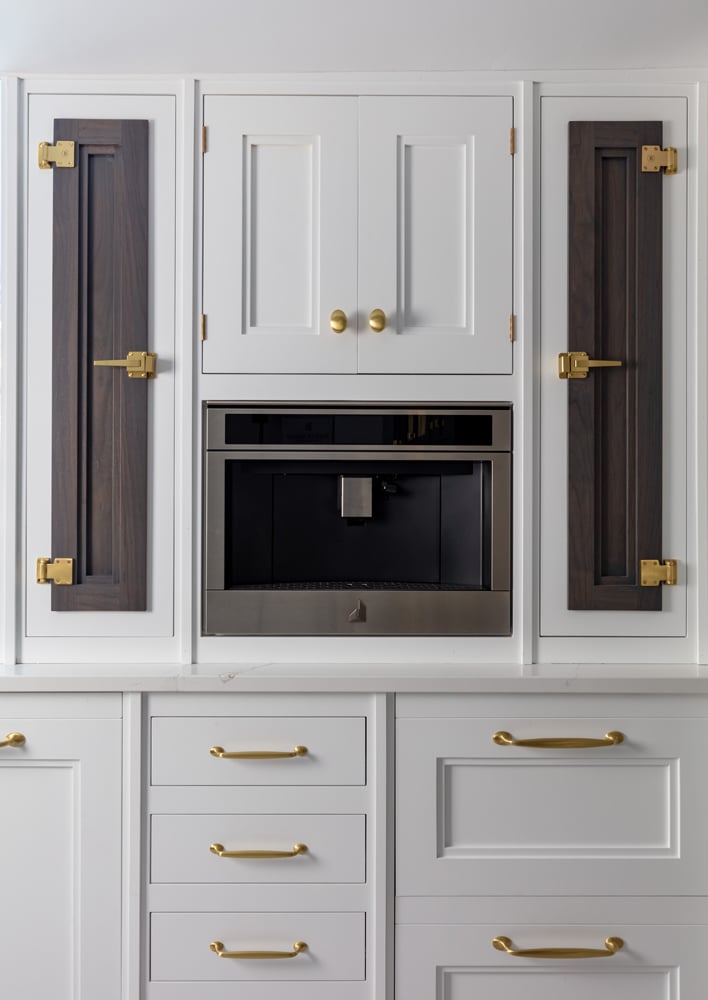 Bob Bakes: We implemented a classic meridian style to complement the historic home's more traditional, Mediterranean aesthetic. My design was also influenced by the homeowner herself, who had a few specific requests, such as a large kitchen island to support a community function, and windows that she could look through while preparing food and cooking. The biggest inspiration, though, was our new cutting-edge products, including the new finishes, new door style (Madison), and some new hardware that I recently designed with Armac Martin.
5. Why did you decide to participate in the Kips Bay Showhouse?
Paul Kropp: Bakes & Kropp is continuing to expand to new markets and geographic regions around the U.S. The Show House is our entrance into the Palm Beach market, and a chance to show a new audience what Bakes & Kropp is all about!
Bob Bakes: The Kips Bay Showhouse gives us not only an opportunity to showcase our expertise in luxury kitchen design and manufacturing to a new market, but also the chance to contribute to a meaningful fundraising effort. We have the utmost respect for the great minds at Kips Bay Boys & Girls Club, a charitable and energetic organization that has been enriching the lives and development of young people for decades.
Photography by Nickolas Sargent