When Bakes & Kropp was enlisted to renovate a 900-square-foot kitchen and dining room in a Southampton home after flood damage, we were tasked with incorporating the client's existing appliances with all new cabinetry in our signature style. The client was inspired by some of our previous kitchens, requesting several hallmarks of our aesthetic. Through a white color scheme with warm wood accents, wrapped countertops, and an icebox-inspired integrated refrigerator, our team created a classic Hamptons kitchen marked by subtly blended materials designed by Senior Designer Guillaume Dupre.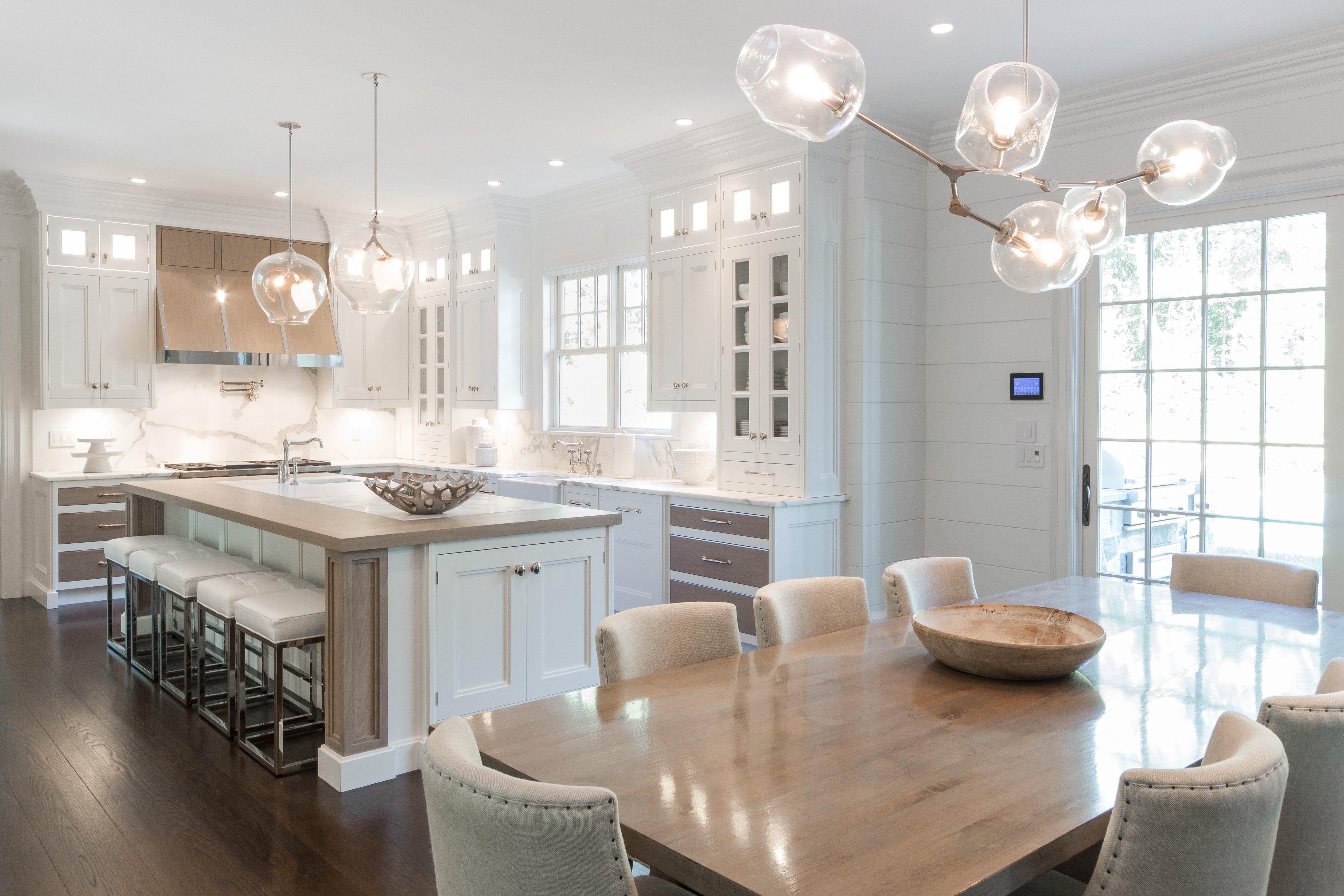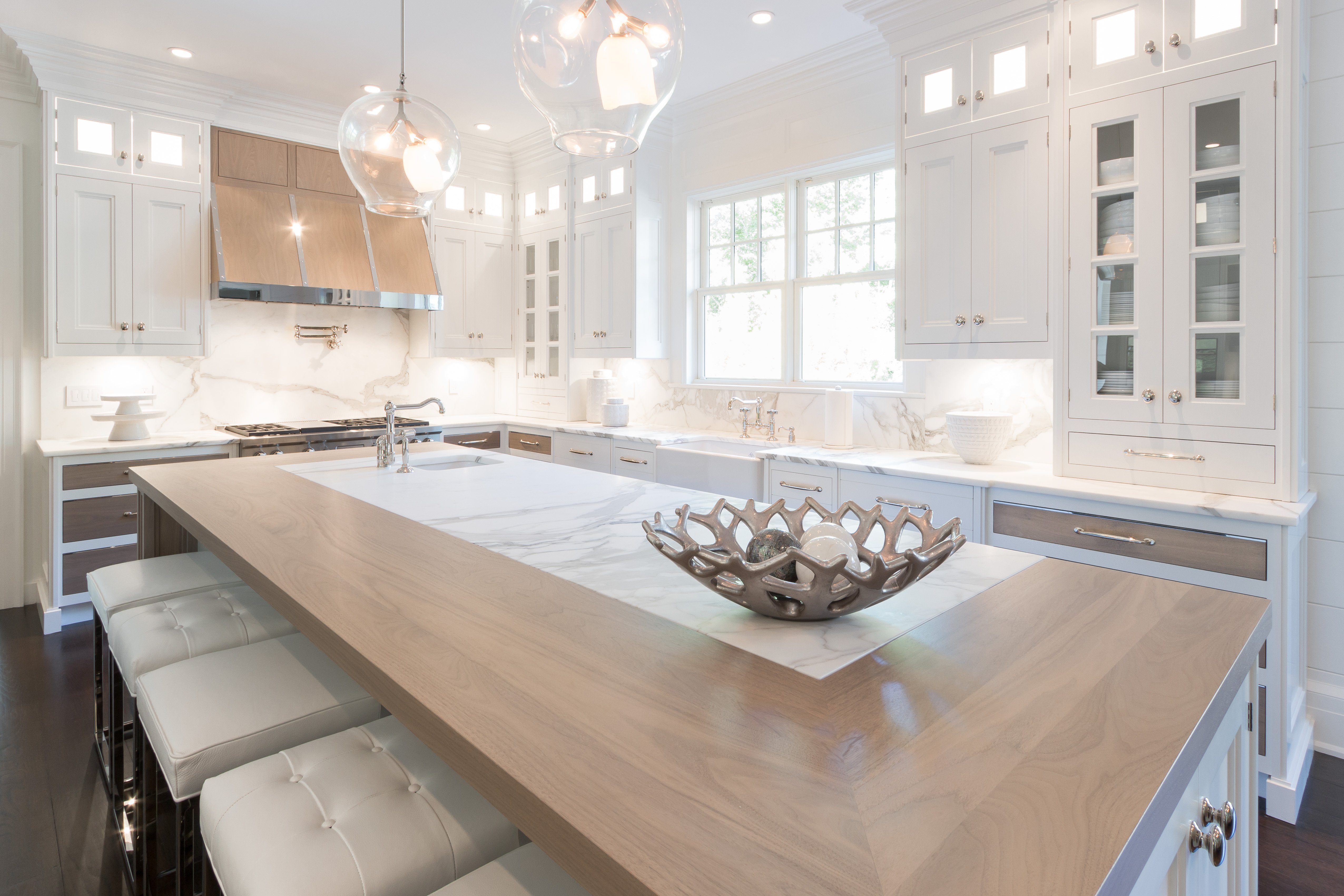 To create a designated space for congregating and casual dining, we incorporated a combination countertop with walnut and marble. The walnut portion is configured in an L shape and features walnut legs, creating the illusion of a wooden table. The contrast between the cool stone countertop and the warmth of the walnut reflects one of our key design tenets – balance. We carried that same balance throughout the space through complementary materials, from the walnut refrigerator doors, cabinets, and drawers placed amidst the otherwise all-white cabinetry, to the custom walnut range hood positioned against the captivating marble slab backsplash.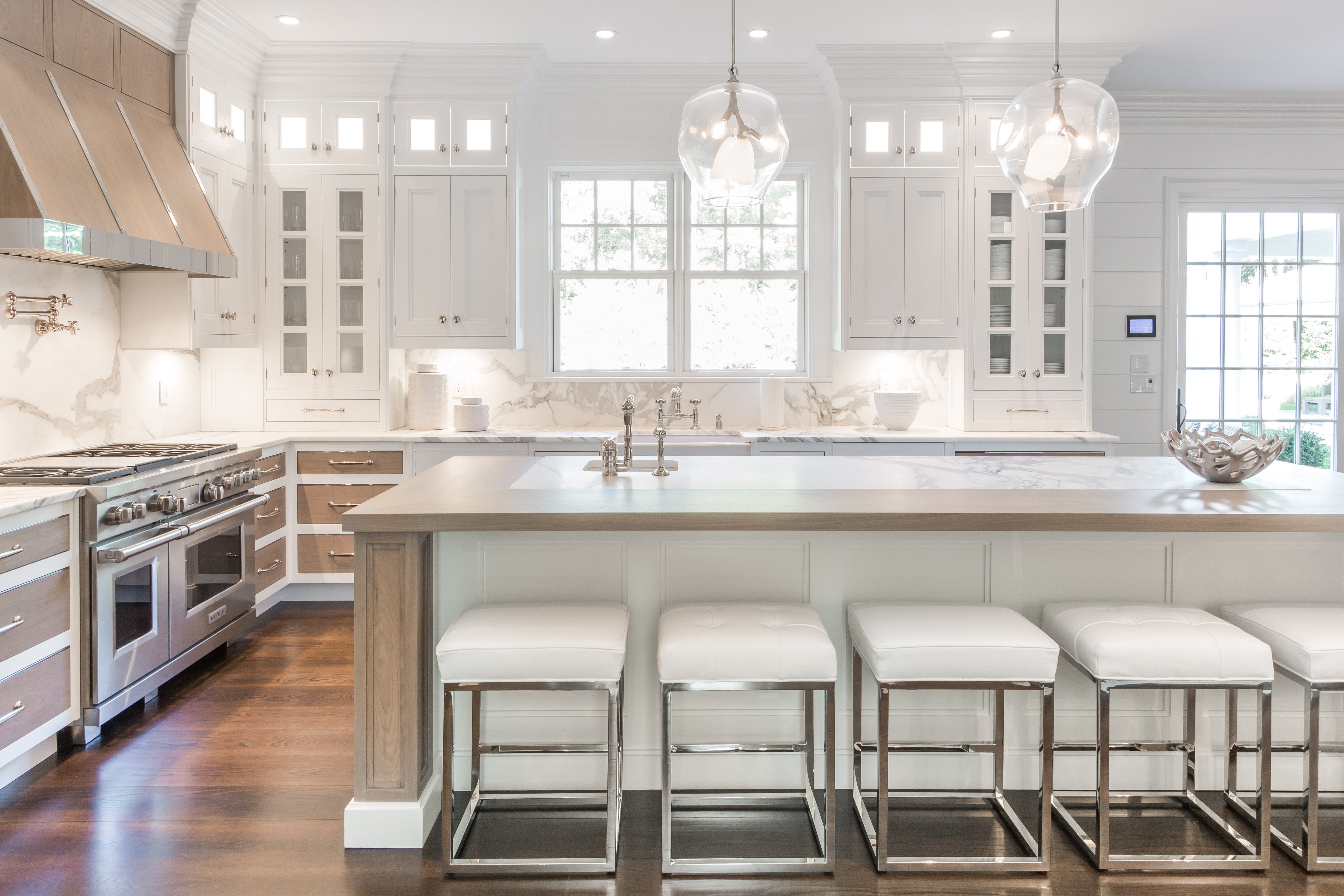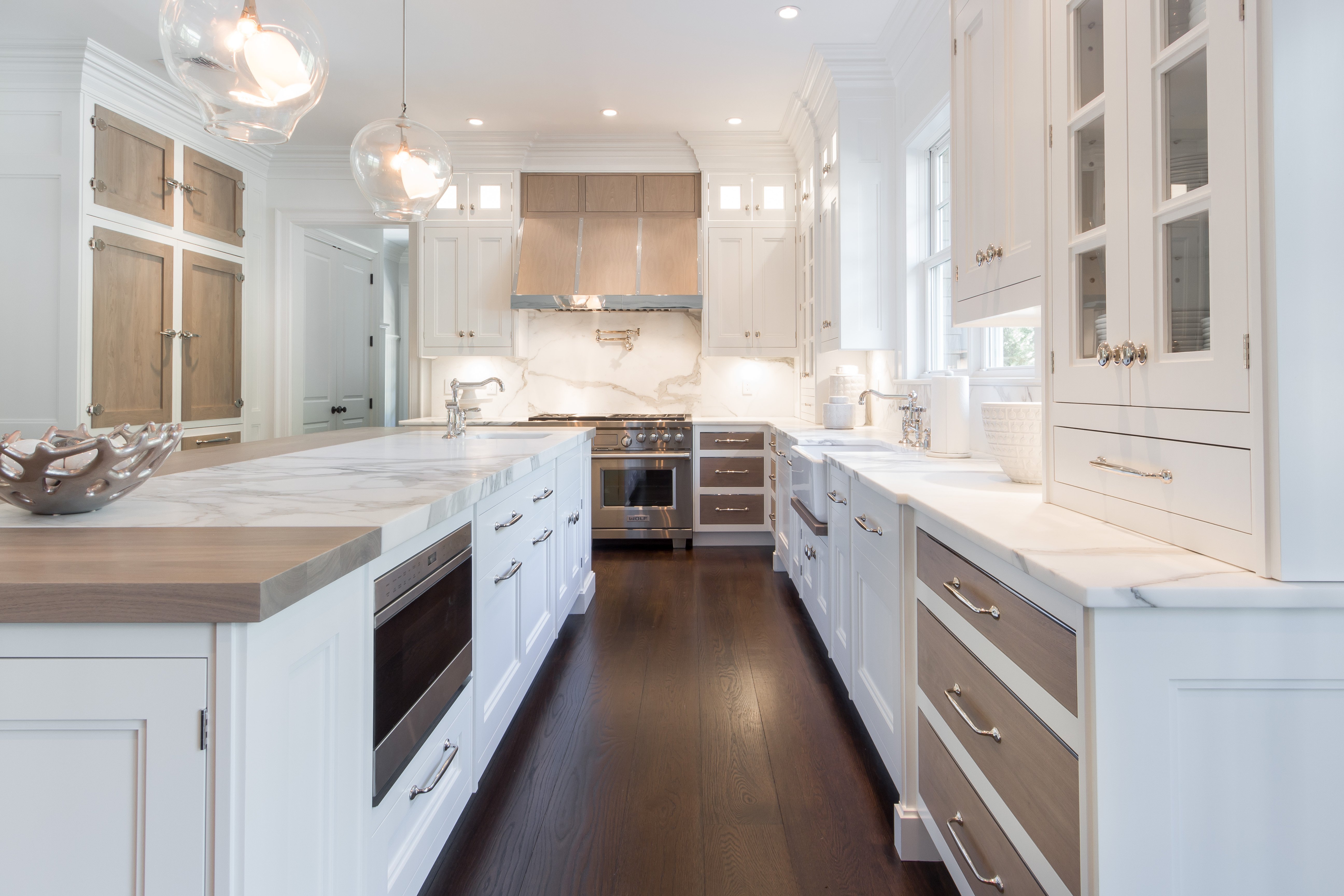 We included chrome finishes through the lighting, hardware, fittings, range hood, and bar stools. These chrome details combined with the stainless steel appliances from Wolf create an additional layer of visual interest in addition to the walnut and white seen throughout. Like all of our projects, this kitchen contains a multitude of intelligent storage solutions such as drawer inserts and pull-outs. We also included both a large porcelain apron-front sink along the perimeter and a smaller prep sink on the island for added convenience when preparing food or washing dishes. A small butler's pantry adjacent to the kitchen features additional storage as well as an integrated wine fridge and a third sink for drink preparation.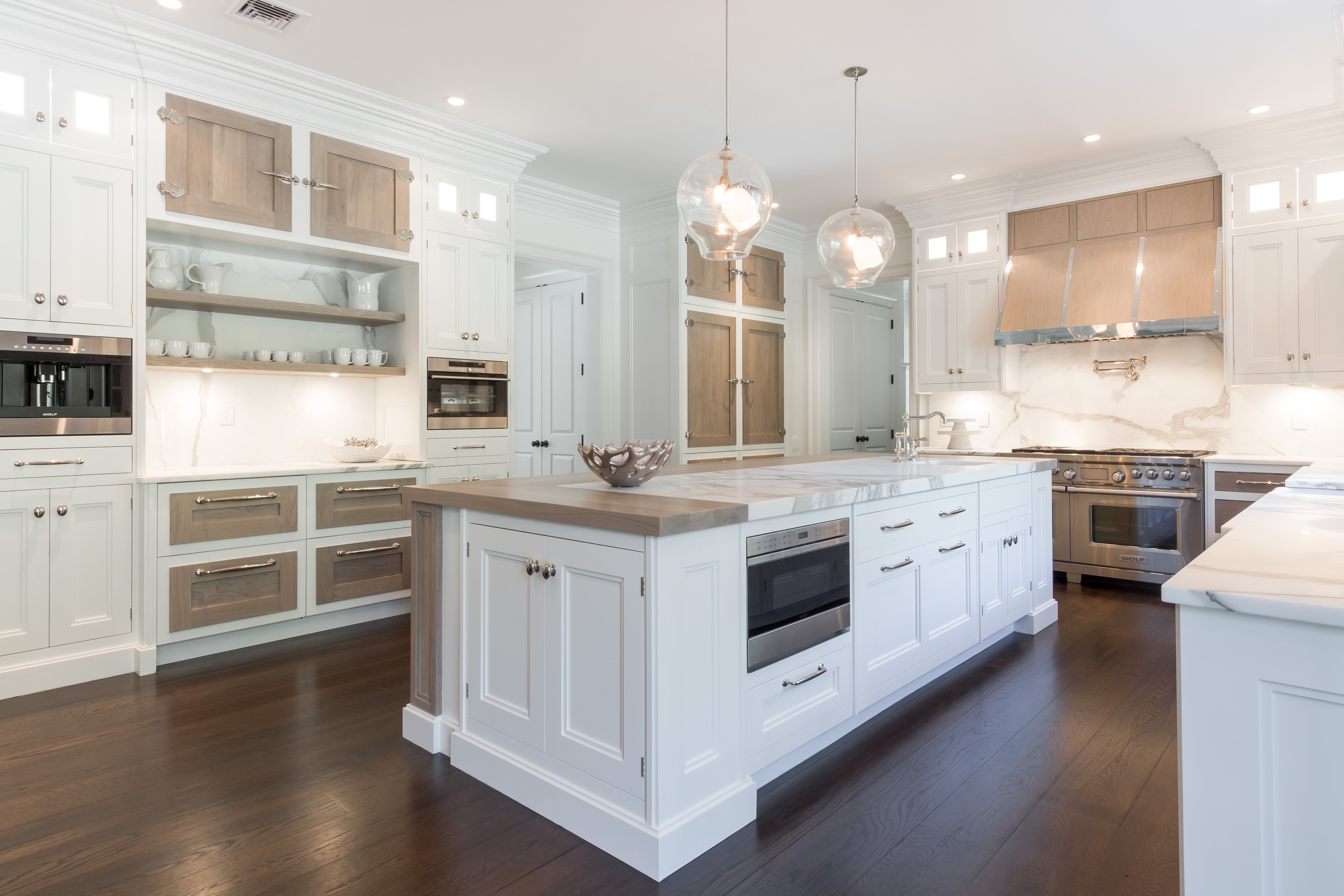 The kitchen's combination countertop, distinctive hardware, and blend of white and warm wood accents are emblematic of our brand identity, which draws high-end homeowners to our design expertise and craftsmanship time and time again. With its expert fusion of materials and luxury elements, this harmonious Southampton kitchen perfectly merges function with the quintessential Bakes & Kropp style.