Butler's pantries are a great option for additional storage, functionality and bold statements.
As a premier kitchen design and luxury cabinetry company, Bakes & Kropp is known for creating unique and functional spaces for our clients, providing a deep understanding of the whole kitchen - everything from the layout to integrated appliances down to distinguishing design details. This wealth of knowledge and expertise extends to a reemerging design trend: the butler's pantry. While butlers are no longer typical for your average household, our team has seen an increase in demand for this type of multi-use space, where homeowners can enhance the functionality of their kitchen, keep clutter at bay, and articulate their unique style and personality.
Butler's pantries date back to the late 18th century's Gilded Age, when they served as a place to house valuable heirlooms such as china, crystal, platters, and additional accessories, under lock and key. This transitional space between a kitchen and a dining area was quite the norm in formal, luxurious households of that day, offering easy access for prepping meals, keeping food at ideal temperatures, and providing extra storage. Today the purpose of a butler's pantry has evolved, due in part to architectural trends and homeowners' shifting perceptions and priorities.
While the modern-day butler's pantry may look a bit different from those of years past, there are plenty of reasons why this trend has reappeared in so many homes. Whether it's a modern-day entertainment prep space, an elevated coffee bar, or a functional home office, today's butler's pantry aims to serve a myriad of uses and is anything but typical.
If you're in need of a unique kitchen upgrade, a butler's pantry may be the perfect solution, and our team is here to help create the space that meets your unique needs and tastes through our personalized design approach. Read on to find examples of how you can create a stylish and elevated butler's pantry using clever storage solutions, bold colors and finishes, and integrated appliances to usher this forgotten room into the modern era.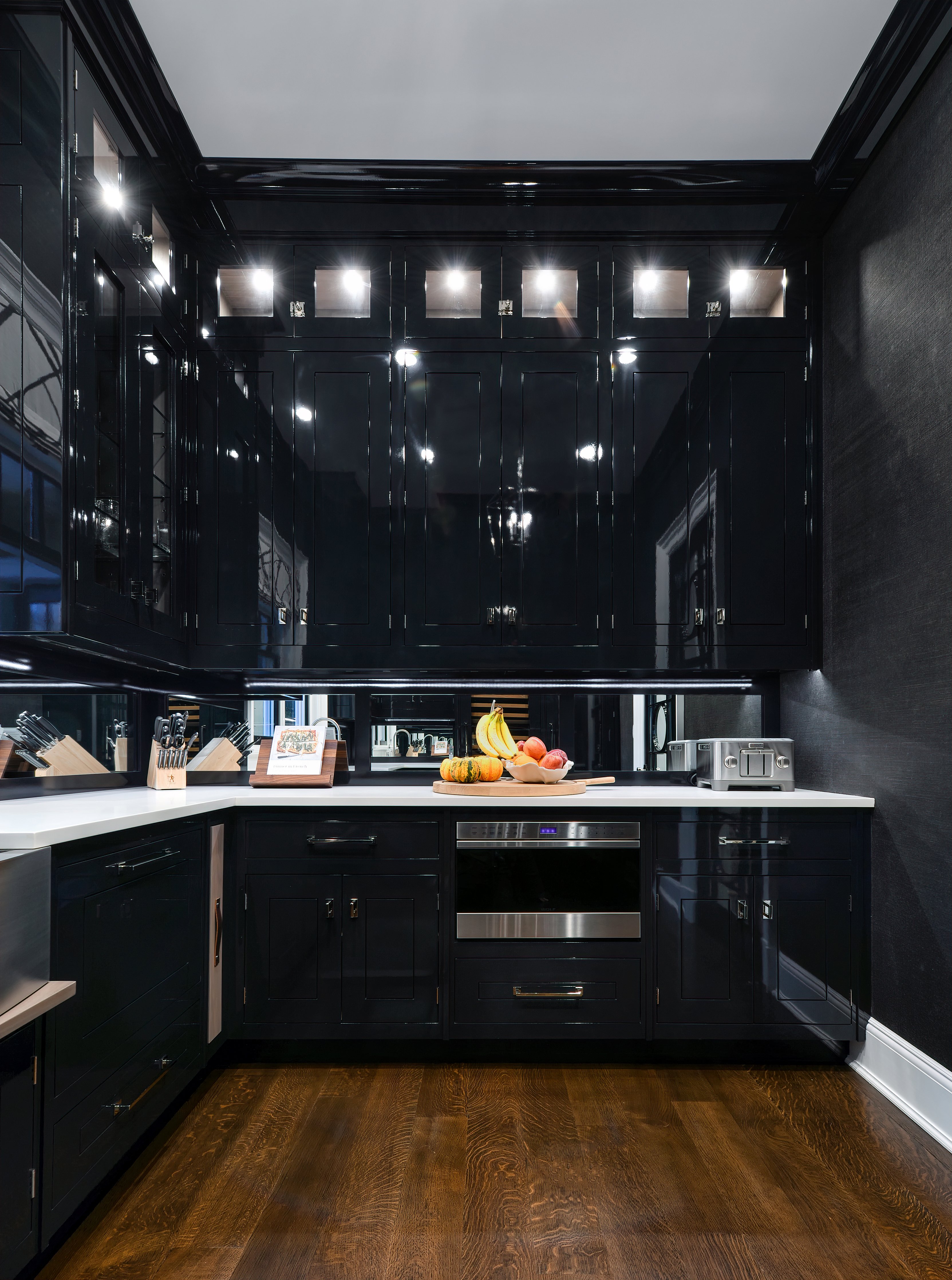 Waters Edge Elegance
Our custom-designed Bakes & Kropp butler's pantries typically feature efficient storage solutions with ample countertop space for serving purposes, while also allowing clients to enjoy a contrasting design style separate from their kitchen. For this butler's pantry in Setauket, New York our design team installed custom high-gloss, all-black cabinetry to maximize storage and style, providing an additional prep area that stands in stark contrast to the all-white kitchen.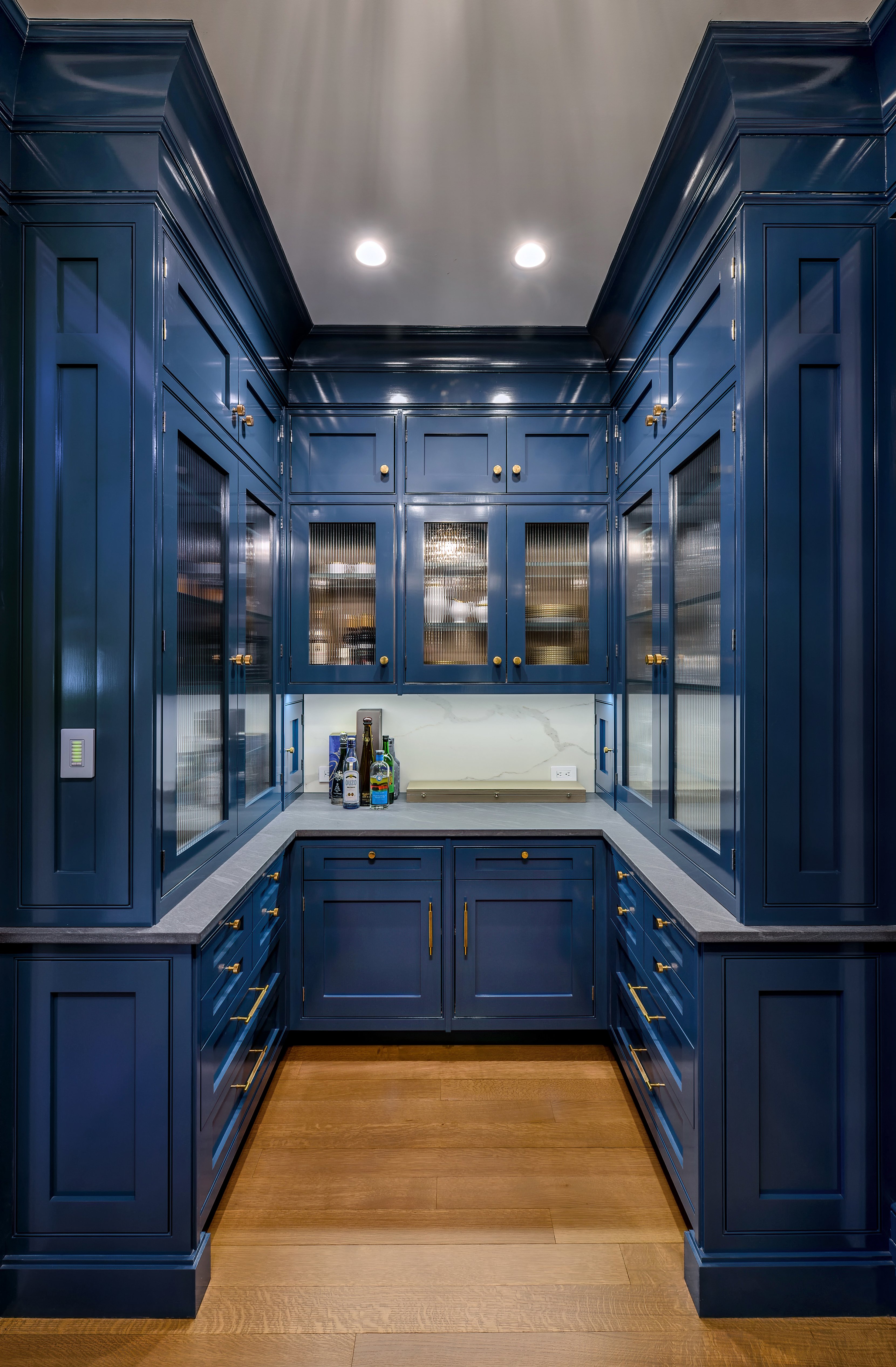 Jersey Entertainer (In collaboration with Frank Delladonne Design)
We aren't afraid to go bold in our designs at Bakes & Kropp, and we find that a butler's pantry is the perfect opportunity to stand out while still functioning as part of the whole kitchen. In this New Jersey dream kitchen, we cooked up a vibrant blue butler's pantry to separate the prep and serving areas. The copper hardware adds a cool, refined accent against the marbled countertop and backsplash to tie this daring space together, creating a unique space for hosting everything from cocktail hour to holiday celebrations.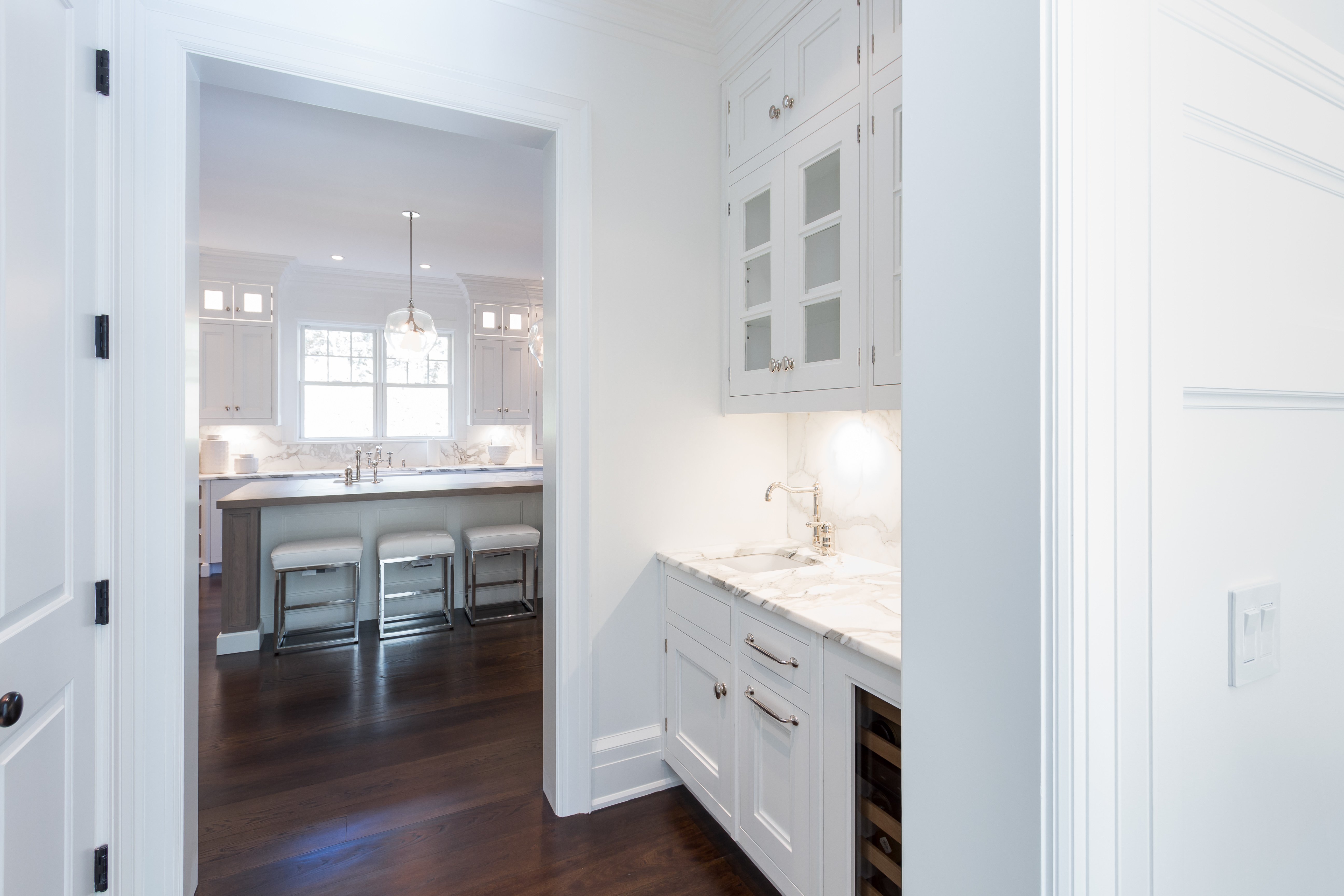 Compact Classic
When working within smaller space constraints, our Bakes & Kropp design team finds integration to be a key element in order to maximize the footprint. For example, this luxurious Southampton home has a small pantry adjacent to the kitchen. Our team incorporated additional storage, an integrated wine fridge, and a third sink to create the home entertainer's ultimate prep station.
While butler's pantries have evolved over the centuries, the idea of having space to aid with efficient entertaining and clever storage space, endures into current times. Our design team embraces the modern take on this trend and welcomes the opportunity to create truly unique and functional spaces for our clients!