Everyone defines "creating a luxury kitchen" in their own way, but most would agree the result is the showpiece of the modern home. At Bakes & Kropp, we believe the ultimate design statement of any home starts in the kitchen.
Custom Cabinetry Defines a Luxury Kitchen
For over 50 years, The Kitchen and Bath Industry Show has put luxury kitchen design at the center of the event. Last year's show in Orlando, Florida, was no exception. At the AuthLux Summit panel, the discussion focused on three essential design elements for the modern luxury kitchen: cabinetry, appliances, and high-end features such as instant hot faucets and filtration systems.
The panelists were unanimous in their view that custom cabinets set the design style for the entire kitchen. Key points discussed included:
The growing demand for European style frameless cabinets that allow for greater storage with wider drawers and pullouts.
Homeowners' leaning towards a sleek, simple aesthetic that is still highly functional.
More people opting for drawers with interior lighting over hinged door cabinets.
And all agreed that for luxury homeowners, the interior of the cabinets is just as important as the exterior.
Creating a Luxury Kitchen of Timeless Beauty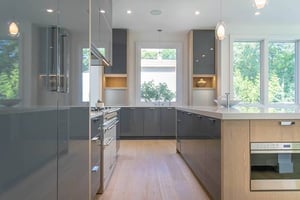 Bakes & Kropp can work as your dedicated kitchen designer or collaborate with your interior designer, builder, or architect to create a luxury kitchen that meets your needs and vision.

No matter which approach you decide to take, our six-step design process follows a similar path.
Step 1 - We want to hear your kitchen goals! We start by discussing what type of project you have in mind. We then talk about your basic needs, inspirations, and, ultimately, what prompted you to contact Bakes & Kropp.
Step 2 - A budget is established so we can accurately assess the overall project, determine which materials will work best, and develop a process that brings your dream kitchen to life.
Step 3 - A relationship is born! A small retainer gets the ball rolling on a deep dive into the design. Along the way, we're here to explain everything you need to know. No question is too trivial for us to answer.
Step 4 - During the detail and design process, we begin comprehensive drawings, incorporating your budget and working closely with you to choose the materials and hardware that will best satisfy your vision.
Step 5 - Once the drawings are completed and approved, we begin production, and in 6-8 weeks your cabinets are ready for delivery.
Step 6 - It's time for installation! We work hand-in-hand with you, the builders, architects, and interior designers to ensure your new luxury kitchen is everything you dreamed of. And if there are any little bumps along the way, we help troubleshoot and solve them, too!
Impeccable millwork, premium materials, and a commitment to exemplary customer service all come together to make your luxury kitchen a one-of-a-kind showpiece.
Learn More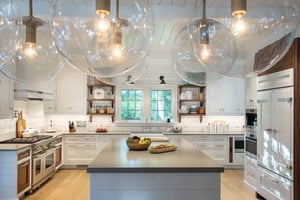 Creating a luxury kitchen depends on designing a seamless vision of beauty and function, efficiency, and style. Do you and your architect, builder, or interior designer have a clearly defined idea of what you want your kitchen to look like? We'll help you create it. Need our guidance? We're happy to bring our years of experience to the table.
Whatever your dream may be, we'll assist you with design, planning, style choice, and color and hardware selections.
Ready to get started on creating a luxury kitchen for your own home or have more questions about custom cabinetry? Get in touch with us today. We can't wait to help you design a truly spectacular new space that is the epitome of sophistication and grace. Visit http://www.bakesandkropp.com/our-process/ to learn more about our process of designing a kitchen.