A well-designed island is synonymous with a sumptuous and sociable kitchen. Not only a great place for family and guests to perch, depending on its design, but it can also be used for extra storage and as an additional preparation area.
The Evolution of the Kitchen Island
Over the years, the island has gone from a strictly functional workspace to a stunning focal point of luxury kitchen remodels. Current trends include everything from mixing up standout finishes and materials to creating zonal kitchen schemes not restricted by four-wall or other traditional layouts.
These five current trends in kitchen island design will most likely become preferred standards as time goes by.
Freestanding Islands
Whether it's custom built or a beautifully repurposed antique piece, a footed freestanding island is an instant classic that makes the kitchen feel airier and more open while adding an Old World feel. One thing to consider when going this route is how to deal with things like the plumbing if you want to include a sink, appliances, or beverage fridge, but with a bit of ingenuity, it can be accomplished.
Waterfall Countertop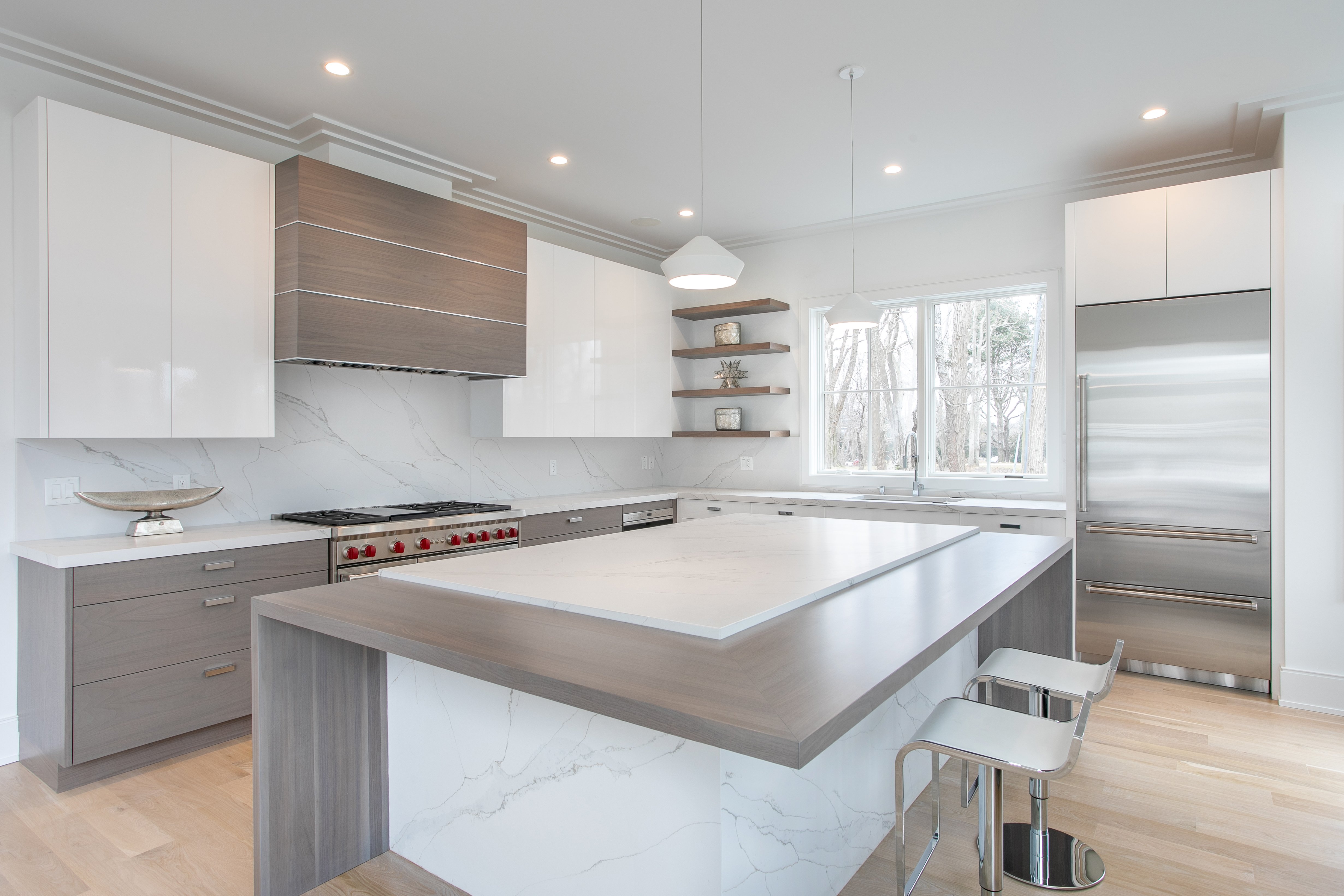 Growing in popularity, waterfall countertops are surfaces that appear to flow over the edge of a workspace, covering the side and reaching the floor. People are using them on both islands and peninsulas to create a fluid and natural look, with their strong clean lines working particularly well in contemporary interiors. They offer several aesthetic advantages, including establishing visual continuity, hiding appliances, and protecting the cabinetry below. There's no easier way to elevate an island to a whole new level.
Going Large
Expanded kitchen islands that serve as storage and additional seating continue to be a strong trend and many homeowners are now building islands that are up to 35 square feet in size. If your layout allows for it, larger can often be better. Even if you have a smaller kitchen, you can adopt some of the large island features into your design. If space allows it, an expansive island can be ideal for additional food preparation, especially if you include a second sink and cooktop.
Open Shelving
While some designers say open shelving has reached its peak throughout the kitchen, it's still a favored choice for an island. Integrating open shelves with closed cabinets and drawers brings a refreshing new look to the classic kitchen island and gives you the best of both worlds—storage for things you want out of sight, and a display option for things like cookbooks or pottery collections that add texture and warmth to the room.
Island Cabinets
A current trend we love is contrasting the island cabinetry with the surrounding cabinets and shelving. There's no rule that says the island must match the cabinets, and incorporating different cabinet colors or finishes can turn the piece into a focal point that beautifully complements the rest of your kitchen. Popular combinations include dark wood islands with an otherwise all-white kitchen, a white-washed island, or a bold-hued blue, green, or glossy red in a neutral room.
Timeless Trends
Trending doesn't mean frivolous. In fact, many trends go on to become timeless classics, and these terrific kitchen island trends are guaranteed to stand the test of time. If you're looking for some beautiful luxury kitchen island ideas and designs, visit one of our showrooms or take a look at some of our recent kitchen projects featuring one-of-a-kind island designs. Then schedule a conversation with us to learn more about incorporating today's island trends when designing your ultimate luxury kitchen.