Kitchen design has an incredibly colorful history. From the white utilitarian aesthetic of the 1920s to the 60s' psychedelic hues and the floral wallpapers of the 80s, kitchen color schemes offer an often-fascinating look at popular culture and personal style.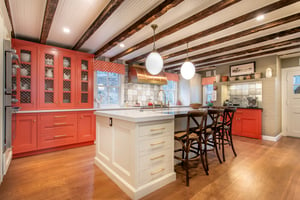 Each decade seems to have also reflected homeowners' evolving sense of design.
The 1930s saw people abandon the all-white look for greens, yellows, and browns that demonstrated an optimism against the Great Depression.
During WWII in the 40s, many homeowners chose a red, white, and blue kitchen theme.
The suburban ranch homes of the 1950s saw more vibrant hues of turquoise, mint green, and soft yellow representing renewed hope.
As we entered the 21st century, the light oak cabinets of the 1990s were replaced with extravagant materials like granite and cherry-stained wood that reflected a time of easy credit and no holds barred spending. But as people slowly recovered from the financial crisis of 2008, the colorful trends of recent decades gave way and a return to neutral hues and an overall natural aesthetic took hold.
Today's Kitchen Color Trends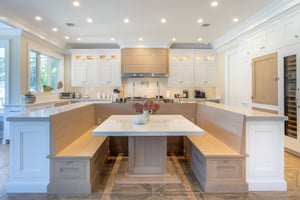 While American homeowners will always love their white kitchens, they've also been known to embrace vibrant palettes and bold statement pieces. Colorful textures, patterns, materials, paints, and stains are often used to create warm and inviting spaces for friends and family to gather.
As we inch closer to 2020(!), here are five of our favorite color trends.
Everything Old Becomes New Again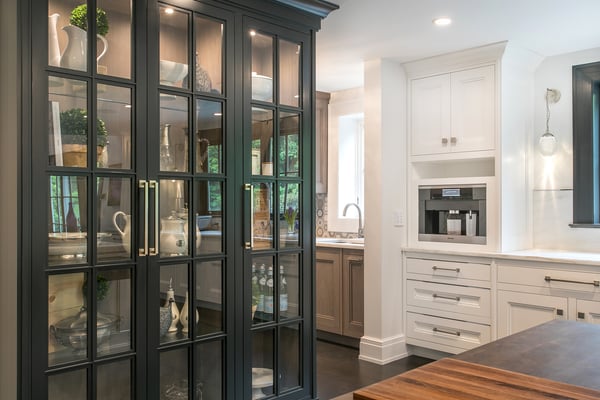 Kitchen history has shown us that trends come and go then come back again. For example, we're starting to see some homeowners pining for a return to the closed kitchen. And as long as new colors continue to make their way onto the scene, there will be homeowners eager to include them in their kitchen designs and remodels.
Ready to inject some interesting and on-trend hues into your upcoming kitchen remodel? Schedule a conversation with us today to learn how color can be one of the biggest factors in designing the ultimate kitchen. Visit http://www.bakesandkropp.com/projects/ to see more kitchen designs.