Soft Modern design, mixed materials and hands-free cabinetry all make the cut for 2023 design elements.
The New Year is looming, and the Bakes & Kropp team is continuing to add novel designs to our timeless portfolio. With over 50 years of experience in cabinetry and kitchen design, we're often asked for predictions on upcoming trends, but the secret is, we continue to offer evergreen designs that our diverse roster of clients always come back to! With that said, it's no secret that new styles tend to take center stage each year. Continue reading Bakes & Kropp's prediction on 2023's most sought-after kitchen designs.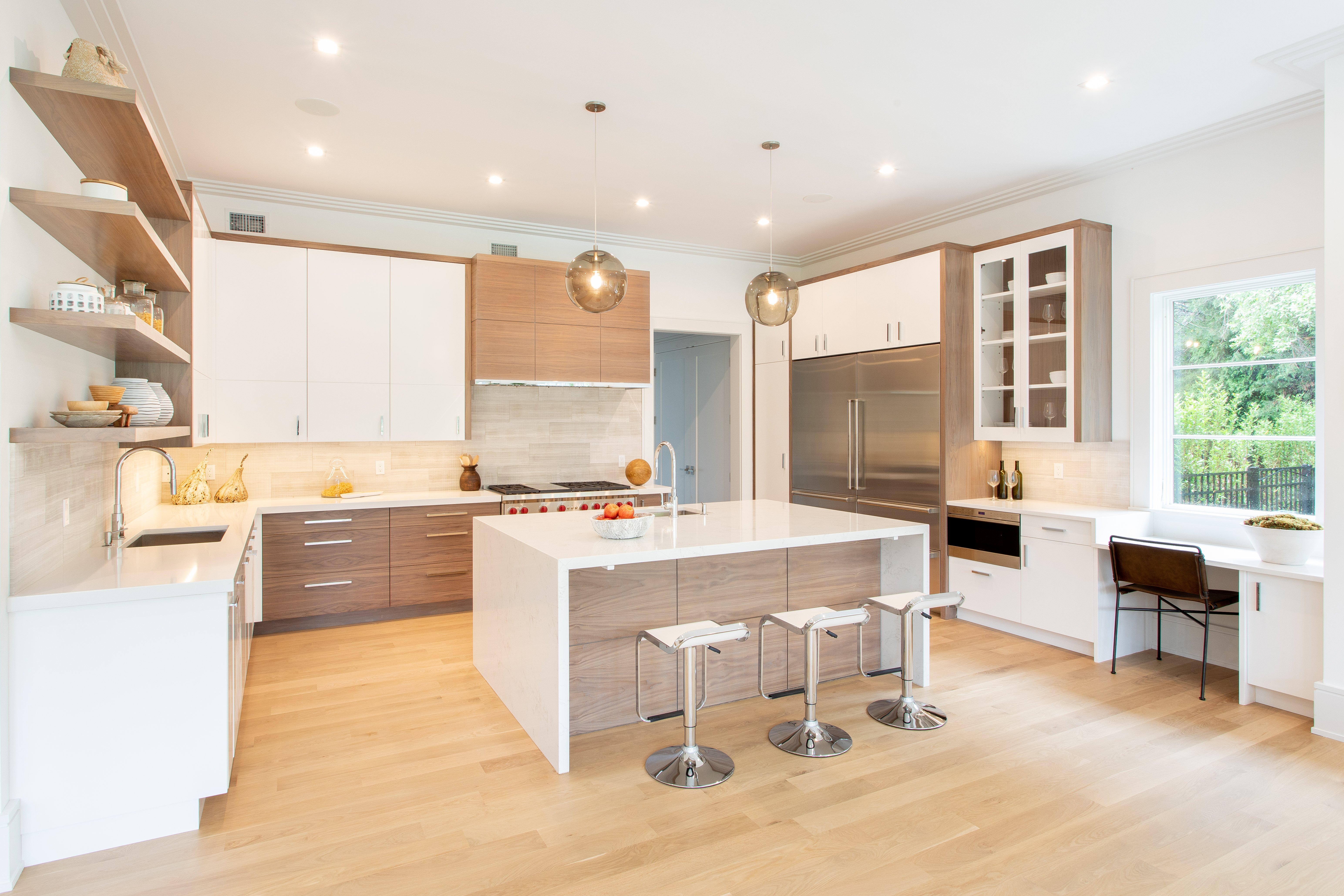 Soft Modern
Soft Modern Design will continue to trend into 2023. "People are steering clear of true minimalism and are opting for a structured modern twist with some softer elements," says Paul Kropp, our Head of Operations.
The introduction of Bakes & Kropp's Soft Modern kitchens fills a gap in the contemporary design market for more tempered offerings. There is certainly a place for modernism but for many, the cold, impersonal feeling deters homeowners from taking the plunge within their homes. With playful contrasts and layers of natural materials, our signature Soft Modern kitchens take a warmer approach that will empower more homeowners to explore contemporary aesthetics.
Color Accents
Lively shades of cabinetry had their moment, but Bakes & Kropp predicts more subtle accents will take over in the new year. "As we near 2023, homeowners are less drawn to cabinetry in trending colors, and instead, opt for compelling accents," notes Head of Design, Bob Bakes. "Whether it be a classic red range hood or a playful backsplash, homeowners are looking to make a statement in a more practical fashion."
Set against more sensible cabinetry finishes, bright accents allow homeowners to integrate color without fully committing to painted cabinetry. An accent color either in kitchen appliances or styling feels a bit more considered and digestible for most homeowners. Sage green was all the rage, but we are excited to see what's in store for 2023!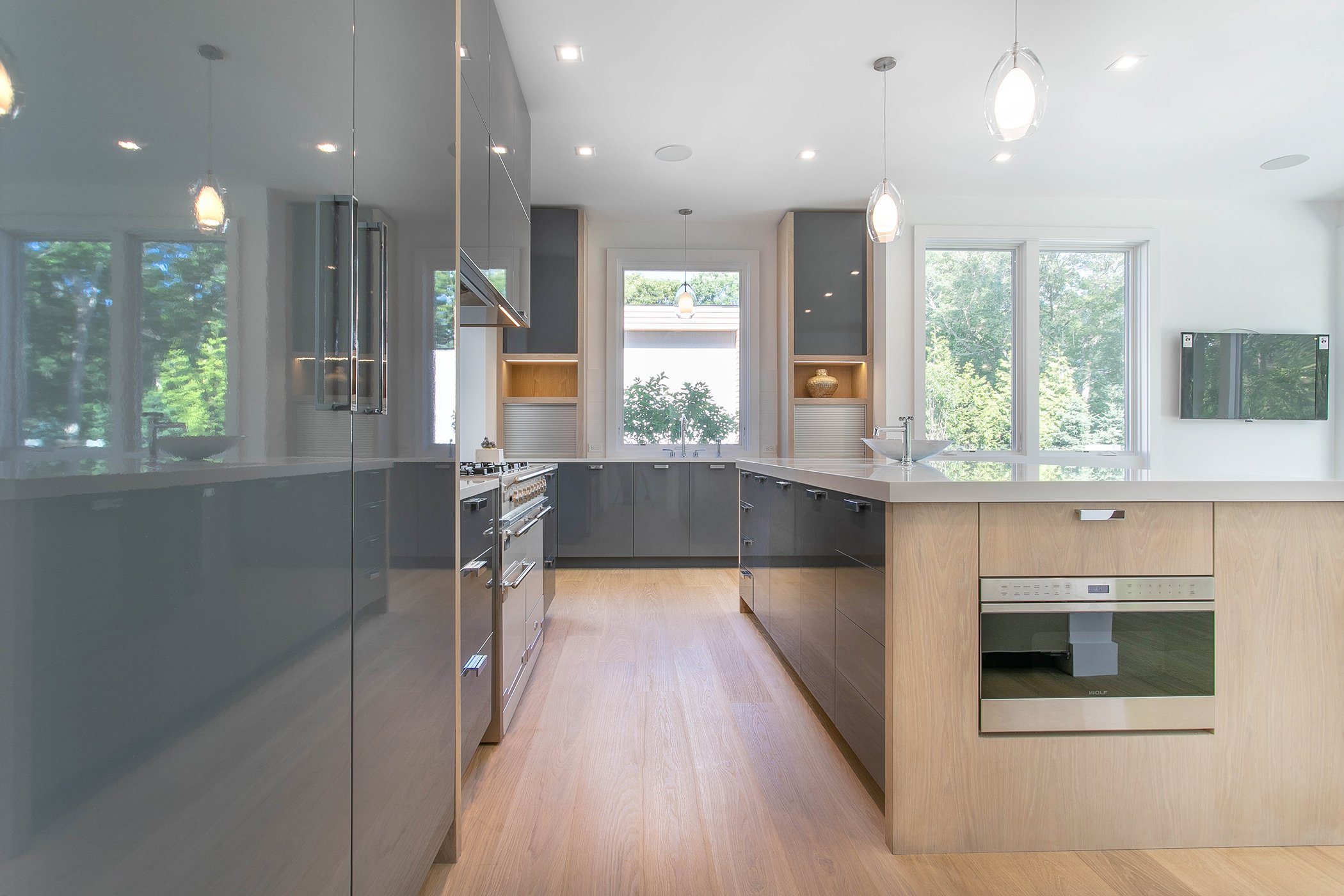 Mixed Materials
High gloss adds a sophisticated element to any space, but in a kitchen, it tends to feel quite cold on its own. At the same time, an entirely matte or wood grain finish may leave something to be desired for homeowners hoping for a more contemporary style. Bakes & Kropp anticipates a heightened demand for mixed materials within kitchen design palettes, allowing homeowners to have the best of both worlds.
"Contrast is key," explains Bob. "We might choose to use a very high-gloss finish for the cabinetry and offset it with a matte wood finish for open shelving or accent panels." The end result is the juxtaposition of both matte and gloss finishes for a heavy impact.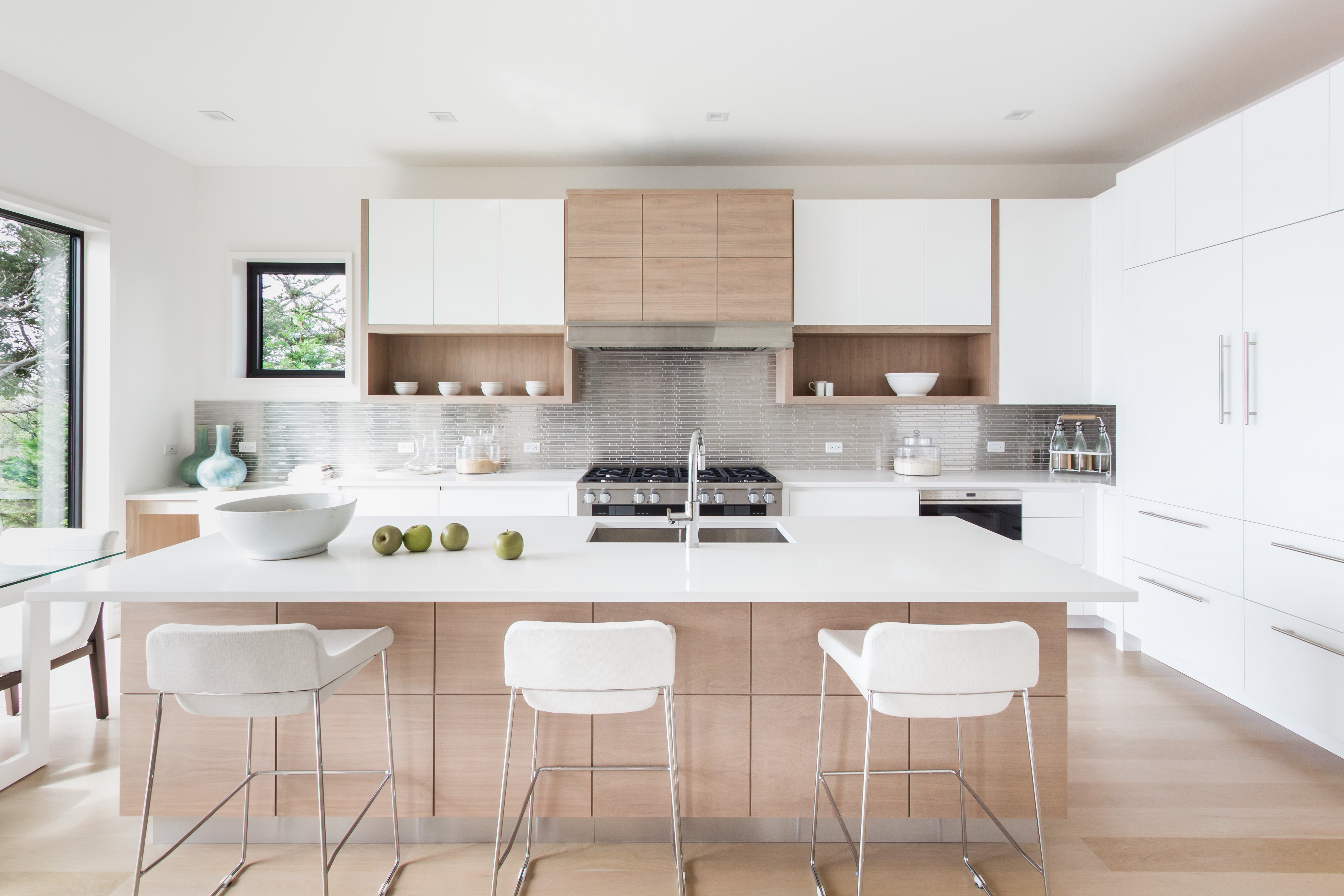 Hardware-Free Cabinetry
Piggy-backing off of the demand for Soft Modern designs, Bakes & Kropp is seeing a greater draw toward hardware-free cabinetry faces. Pared-down cabinetry offers a cleaner look visually, allowing more room for individual elements within the greater kitchen's styling. For homeowners looking for a timeless backdrop to swap decor in and out with the seasons, latch-style cabinetry is a great option!